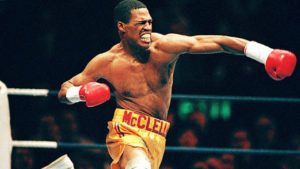 By Donald "Braveheart" Stewart
Oftentimes I start a review of a boxer's career fully in a positive frame of mind. No matter what they have faced or what transgressions they are guilty of, redemption somewhere is apparent. It can even come from the sport itself.
Occasionally I start with a tale of woe that has little by way of mitigation and yet here, and there appears something which can be claimed as a positive spin, where, despite a continued struggle somebody somewhere has done something remarkable about it.
And then I found myself looking at the tragedy that Lisa McClellan faces daily.
Lisa can sound, in interviews embittered as the sport of boxing appears to have left her brother a little behind. As recently as 2017 she was interviewed in the shadow of the $100 per buy Connor MacGregor/Floyd Mayweather fight and let rip. "I refuse to support a sport that doesn't take care of its own."
Ironically, given that this month the son of the man who was in the ring opposite her brother that fateful night has made a splash in his boxing career that an event so tragic in the boxing world should come to mind.
Her brother, by the way, is the former world champion at middleweight, Gerald McClellan, 31-3 29 KO's.
On the 25th of February 1995, he entered the ring to fight the UK's Nigel Benn. Ten rounds after the first bell he left the ring brain damaged. He is now blind, 80% deaf, able to feed himself but do little else, and is in need of constant care. Lisa has been in his corner since then. She has lost a husband whilst prioritizing her brother and her sister who used to share duties had to step back after receiving a kidney transplant. To say that things have been tough for the whole family, is far from an understatement.
Of course, boxing has pitched in. Notable names, those who were around at the time and have memories of her brother when he was in full flight have given most. But memories fade and so do the people who were around in our youth. What replaces them is hardly ever of the same value or of the same commitment.
Charities have helped and provided lifeline support, but if there was ever a physical specimen that deserves the continued support of the sport, given how much these fighters contribute, then Gerald McClennan is the poster boy.
As for the man who beat him that night, Nigel Benn has done his bit for McClellan's recovery, though it took 12 years before he managed to meet up with him again. At that time, he was able to lend a hand in raising a magnificent £250,000 for his care, after a benefit night in London. It is however a period of his life he does not dwell upon for reasons which may be obvious. In a recent interview, with Ring TV, to mark the 20th anniversary of the fight Benn spoke of how when he met him at the fundraiser, he was humbled, "It was so difficult because I had to shout in Gerald's ear so he could hear what I was saying but he told me it was an accident, that it wasn't my fault. I was so happy to see him, but my emotions were up, and down, up and down. I didn't know whether to be happy, or cry, or be sick. I've never experienced so many emotions at one time in my life. I held Gerald's hand and Lisa told me all the stories about his aftercare. I always felt the American people (boxing fraternity) should have looked after him better than they did. If he'd been British, his house would have been paid for and he'd be getting the best of care. I understand that a lot of people, particularly animal rights activists, held a grudge because of his links to dog fighting."
After the fight both boxers had been taken to hospital, as it had been that brutal a night but clearly one was far more damaged than the other.
In that self-same interview, Benn had spoken of how he thought that McClellan had been fast tracked through the weights too quickly and given his insight it is hard not to give that thought some credence. Benn went into this fight as the clear underdog and there were people who did not see Benn coming close to winning. Given who Benn had fought beforehand, the idea that as some suggested he was going to get blasted out within three rounds did lead to a ferocious start from the Brit which would not have helped the cause of McClellan's health.
But the fact was that McClellan had one of the highest first round knockout rates of any boxer. Ring Magazine had him number 27 in hardest punchers of all time. His pedigree was built around being trained at the Kronk to start with and then out of Sugar Ray Leonard's gym.
In 1991, that one round style was to bring him the vacant WBO middleweight title when he blasted out the teak tough John Mugabi, then took five rounds to gather in the WBC title when he knocked out Julian Jackson in May 1993. He defended his WBC title no less than three times – all in first round stoppages. Its hard to see how anyone with that type of record would have shouted halt in anyone's career!
In the autumn of 1994, McClellan split with Emmanuel Steward as his trainer and then went into the fight, on the 25th of February 1995 against Nigel Benn in London. It was a brutal fight the referee was rightly criticized for mistakes. Benn was down in round one, with the referee managing to take 13 seconds to give him his count, then again in round eight and the end came in round ten when McClellan was felled this time, got back up, continued to fight without throwing any punches, was taken down again, stayed down, got counted out, stood up, walked to his corner, sat on the canvass and slumped into a coma; he was then stretchered out of the ring.
McClellan then had 11 days in a coma, after a blood clot was removed from his brain.
Was there evidence that things were wrong before the fight?
There had been an incident in sparring about a year prior and headaches that came after the Jackson fight in 1995 which had gone unheeded. Were they indicators of trouble early on which could have stopped the eventual outcome of this brave fighter's career? We can speculate but never know for sure.
In the aftermath of the fight, Nigel Benn had the poignancy to comment, as he faced the possibility of never going in the ring again that, "My heart goes out to Gerald McClellan and his family. It was a fierce and fair fight, but no one could imagine that such a great sporting spectacle could end so sadly".
It is an epitaph that is fitting as we watch more fighters risk their lives on a daily and weekly basis. No one could imagine, but we are all aware. Perhaps the call from Lisa McClellan to join other
organizations like the non for profit Ring 10, to support her family and her brother should be heeded, after all the riches in the sport now, would only be hampered by a small amount if a fund was created to significantly support those who fall in the ring, slump to the ground and end up permanently damaged. As we applaud their bravery, perhaps it is time to support the bravery of others, like Lisa, who take on the after care we cannot see being done by the sport.
Contact the Feature Writers