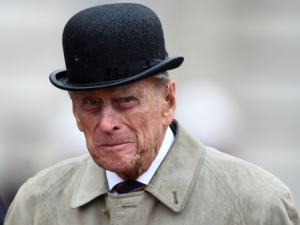 By Donald "Braveheart" Stewart
As I sit in my Kailyard I wonder often about the future.
And so, the funeral of a much loved grandfather, husband and consort was held recently.
We had speculation over whether the two grandchildren and brothers, Prince William and Prince Harry would even look at each other, never mind share a few words over the death of their dear grandfather. The funeral was that of Prince Phillip, once heir to the thrones of Denmark and Greece, Duke of Edinburgh and consort to the Queen.
It was a simple and somber affair. The Queen sat alone. Everyone was in face masks and observing social distancing but the one question on everyone's lips was just how much of a distance would there be between the two warring brothers!
The announcement that their cousin and son of their aunt, Princess Anne, Peter Phillips was going to stand between them added to the whole speculation and intrigue. There were even columns dedicated to the idea that having him as mediator was an excellent idea.
It was a funeral.
He was standing between them. They were walking behind a coffin as their relative was being put to rest. It was hardly the time to break out the UN style hard hats and sit down for a cozy chat about how they were feeling about each other.
We also got the whole debacle of people complaining on air that the coverage of Phillips' death was ridiculous. Television channels, BBC One and Two were taken over for the whole day he died with repeated tributes. Even the commercial channel ITV did the same. BBC Three was taken off air completely. That was too much was the horror cry!
Really?
Is the BBC not the state broadcaster? Did people not have a plethora of other channels to watch? Could they not just binge on the Kardashians instead?
On the day of the funeral and indeed for the week after his death there were many and varied tributes to a man who married into a role that had not really been seen since Prince Albert had been at the side of Queen Victoria. It was a role that was tough for the action man who had seen military service and was a blunt exponent of saying it as he saw it. But he was tremendous at it.
The Crown television series is not a reality check for anyone in the Royal Family, but it did highlight some of the issues that have bedeviled the Royal Family over the years and decades. The Crown, remember was fiction. Phillip was often the guy who could come between people at loggerheads and talk plain sense.
He was the confidant, and many have suggested that, had he not been so ill, he would have been the right one to get in the middle of the whole Megan v Family saga being played out across our screens. He was after all the man who counselled and spoke with Diana at times when she was feeling out of sorts. He had a unique vision because he too had been an outsider who had joined "the firm" and had to find his own role.
I met him, very briefly, at a Garden Party, many years ago and was close by when he behaved impeccably in the line-up, who were waiting for their 10 seconds with the Queen. He was being the shadow to the Queen's business. He made small talk and did nothing to detract attention from the main event – the Queen. It could be argued that he "knew his place." It could also be said that he was a master of the understated, the witty remark and the odd gaffe from which there was much embarrassment to be drawn. The fact is that over nearly 80 years, the service he gave was far greater than any pronouncement he may have made around opinions he held.
And yet, even with the sight of a woman in mourning, sitting alone, perhaps reminiscent of when Princess Diana was on her own in the shadow of the Taj Mahal, but far more poignant, I still do not support the principal of a monarchy.
Whatever Phillip or the rest of his family do, the idea of having a family as the epitome of your country, the summit of your moral code, is quite simply wrong. It is undeniable that if you put people on a pedestal because of which family they are born into then you cannot expect any sort of remarkable gene line that makes them good people. You cannot expect service to trump any sort of personal grievance when that grievance relates to issues of the present when you are faced with prejudice of the past. It is simply not fair on the family, on the country or on the nation to build democracy round privilege.
It does not, however, stop your heart being in pain when you see a family in grief and thank God it was not you. Sympathy does not have boundaries. In typical understated style the Queen, having learned perhaps from the disaster of when Diana was killed, has been a pinnacle of propriety and understated reflection. She too is in her nineties. She does look very much the woman of her time and an immensely steely character. But she too may find herself coming closer to the inevitable.
Once she goes, we are left with a man nobody thinks should be king, his brother who consorts with convicted sex offenders, two sons who don't seemingly get on and a family in which there is someone who might just worry about the color of babies.
Heredity concepts are not just old fashioned, they are ridiculously close to suffering abuse at the hands of prejudice. Even the Royal Family deserve better.
A view from the new Kailyard or, how you look over there, from over here…
(kailyard n. a genre of sentimental Scottish literature turned into effective invective comment from one Donald worth reading…)
Contact the Feature Writers