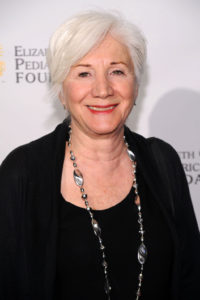 By Geoffrey Huchel
Stage, television and film actress Olympia Dukakis died May 1, 2021 in New York City. No cause of death was revealed however, it was reported that she had been in failing health for several months. Dukakis was 89.
Olympia Dukakis was born on June 20, 1931 in Lowell, Massachusetts. She was the cousin of former Massachusetts Governor Michael Dukakis. She is an alumna of Arlington High School in Arlington, Massachusetts and attended Boston University on two separate occasions earning a BA in Physical Therapy and then a Master of Fine Arts and then decided to embark on a career in acting.
Dukakis has built an impressive resume throughout her acting career. She performed in over 130 stage productions in theatre and playhouses in Massachusetts, as well as Off-Broadway and Broadway. She appeared in over 60 films, including THE IDOLMAKER (1980), WORKING GIRL (1988), LOOK WHOS TALKING (1989), DAD (1989), LOOK WHO'S TALKING TOO (1990), PICTURE PERFECT (1993), I LOVE TROUBLE (1994), MIGHTY APHRODITE (1995), MR. HOLLAND'S OPUS (1995),AWAY FROM HER (2006), IN THE LAND OF WOMEN (2007), and the two films she is best known for STEEL MAGNOLIAS (1989) and MOONSTRUCK (1987), for which she won the Oscar for Best Supporting Actress in a Supporting Role.
Her television credits include appearances in BREAKING AWAY (1980-1981), SEARCH FOR TOMORROW (1951-1986), THE EQUALIZER (1985-1989), SINATRA (1992), TALES OF THE CITY (1993), TOUCHED BY AN ANGEL (1994-2003), MORE TALES OF THE CITY (1998), JOAN OF ARC (1999), FRASIER (1993-2004), LAW & ORDER: SPECIAL VICTIMS UNIT (1999-), FORGIVE ME (2013-) and TALES OF THE CITY (2019).
Ringside Report sends our condolences to Olympia Dukakis' family during their time of grief.
Contact the Feature Writers