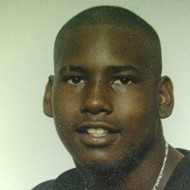 By Ty Ross
In 2017, Tony Sanders was driving from Charleston, MO to Memphis, TN when he got lost. Experiencing what his family describes as a mental health crisis, he got lost on the way and ended up at a truck stop. Sheriff's deputies soon arrived, and this is where things went terribly wrong.
According to the deputies, they lacked the staff to take Sanders to a nearby hospital for a mental evaluation, so they took him to the jail instead. My question is why the same officers who transported him to jail, couldn't have taken him to the hospital.
While we don't know what happened prior, what is known is that shortly after being in jail, 10 officers, including the Sheriff on duty Cory Hutcheson, entered Sanders' cell where they tackled, pepper sprayed, tased and beat him. But it was Hutcheson who placed his knee on Sanders' neck, pinning him to the ground, that ultimately caused his death. Despite an unknown officer pleading with Hutcheson to stop.
My question, and I'm sure many others' is why. If there was no staff to take Sanders to hospital, why were they available to drive him to jail? I assume they could have used the same car. Also in question is there were many other officers available to assist in the beating, torture and ultimate murder of the inmate.
The family filed a civil suit again the department, and four years later they have finally made a settlement offer. Originally $500K a month ago, it has been increased to $2.5M. The family has not accepted this offer, according to their attorney, because in adding Sheriff Hutcheson to the suit, they now want $3.5M. Which is covered by a supplemental insurance policy. The city is petitioning a judge to require them to accept the original offer. The Sheriff, has resigned the force and is prohibited from ever serving in law enforcement again. The issue isn't the case, but his resignation came after being convicted of and sentenced to six months in federal imprison for identity theft and fraud.
That Hutcheson is no longer able to carry a badge, is little solace to those left behind in the wake of Sanders' tragic and avoidable death. Sending the message that fraud is a more justifiable crime worthy of punishment than untimely and viscously taking the death of a human being.
Check out Ty's book THE POWER OF PERSPECTIVE. It's a collection of affirmations she wrote to get her through a difficult time in her life. Words of wisdom that apply to anyone, and everyone, to get through the hard times. If you're questioning yourself, and need a reminder that you are in control… Click HERE to order your copy.
Contact the Feature Writers