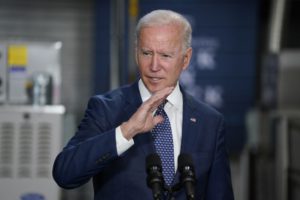 By Nikki Slusher
The good vibes the president and the Democratic Party have felt since his election are about to face serious challenges ahead after the president's first address to Congress earlier this week. Although Biden has never technically had a "honeymoon" period in his presidency — mainly due to the GOP's refusal to accept his win as valid — he now faces struggles amongst his policies and other progressives.
In Biden's first 100 days, he has been able to keep a decent portion of his campaign promises. He passed his $1.9 trillion Covid relief package, also granting $1,400 stimulus payments into the pockets of Americans. His vaccination campaign has escalated beyond his promise which has helped aid in the fight against the pandemic. In fact, this vaccination campaign alone did double the amount of vaccinations it promised — from 100 million to over 200 million in the arms of Americans.
It's these successes that have the progressives in Congress ready to demand more. While the new president may have won well over the 270 electoral college votes needed to win the presidency, him and the Democratic Party are at risk for losing the House and possibly the Senate in 2022.
Top progressives have sounded quite cautious with an optimistic tone. Biden has since appointed his longtime advisors, Rob Klain, as his chief of staff — a man who has built bonds across ideological lines consistently. However, the president has faced backlash from his party in doing so. Lou Diane representative Cedric Richmond was placed in a top position to help underscore the nature of the issues amongst the nations's conservatives and progressives.
There are a lot of potential fights amongst the horizon; including uncertainty around the Senate more specifically that complicate Biden's future plans and policies. If Democrats fail to win House and Senate seats in 2022, the administration risks on failing to keep both houses and potentially harming Biden's agenda and his Cabinet's nominations — some that are guaranteed to face partisan blockades.
Progressive climate groups have been against Rep. Richmond's appointment as a senior advisor and director of the Office of Public Engagement drew harsh rebukes. The Sunrise Movement has led the challenge on this and other appointments.
The concern comes over the coalitions having the capacity to speak as one voice on a broad range of issues. Rep. Alexandria Ocasio-Cortez are set on passing a minimum wage hike. Rep. Pramila Jayapal told news outlets, "We made a promise to raise the minimum wage," she said. "We now have to deliver on that promise to 27 million Americans who are not going to be much convinced when we go back in two years and say, sorry the unelected parliamentarian told us we can't raise the minimum wage."
Democrats have on shot every fiscal year to to pass legislation with a simple majority — as VP Kamala Harris sits as the tie-breaker for a 50/50 split Congress. Currently, Senate rules give Parliamentarian Elizabeth MacDonough the authority to decide individual provisions are sufficiently fiscal within their nature.
Harris has one option to overrule MacDonough's guidance and proceed with the bill, including the $15 minimum wage prospect. A coalition including over 20 progressive groups asked Harris to do just that on Thursday." This single, powerful move will begin to reset the economic system so that millions of low-wage workers — disproportionately of women of color and communities of color — will no longer be treated as second-class citizens," the groups wrote in their letter.
As of now, VP Harris has no intention of using this authority over any bills going through the Senate. Although the President and his VP are hesitant to enact such powers, after for years of the former guy it is unclear what other measures progressives intend on taking if the White House doesn't take initiative.
If the president and his VP refuse to act upon these issues, it is only a master of time until progressives split from the DNC and create their own party, similar to what conservatives predicted the former guy and his spawn would do. We can only hope the president and his administration act accordingly and take a stand for their promises which they ran on. After all, the former guy did whatever he wanted so what's stopping Democrats?
Contact the Feature Writers