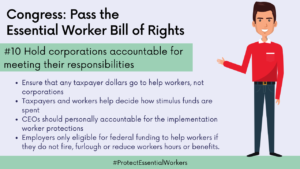 By Ty Ross
In April, the mayor of Long Beach, CA, signed an ordinance that approved a $4hr hike termed the 'hero pay' increase for essential workers in retail and pharmacy businesses with more than 300 employees.
This move was widely supported by the worker's union, and the employees who have put their lives and health on the line daily amid the coronavirus pandemic. Those without the benefit of guaranteed salary, paid leave, benefits or a myriad of other protections given the executives of those same companies.
Once the ordinance was passed Kroger, the country's largest grocery chain, decided to close (almost immediately) the doors of three Long Beach stores rather than pay the increase. The stores chosen, operate under the Ralph's and Food 4 Less brands. Typically located in low-income and underserved communities. Several Los Angeles stores were to be closed as well, leaving hundreds without a job. In addition to that, there would be thousands of long-time and loyal customers without a close and convenient source of food.
It goes without saying that the most affected by this decision are in vulnerable communities made up mostly of the elderly and people of color.
According to Kroger, those stores were under performing and the additional operating costs of $20M a quarter, would be too much for the grocery giant to sustain. In all fairness, they did offer the soon to be laid off employees jobs at other stores.
The California Grocer's Association tried unsuccessfully to get an injunction against the city of Long Beach and prevent the wage hike. Showing a lack of support to employees who have talked of long hours, lack of PPE and the stress of dealing with increasing animosity, verbal abuse and sometimes violence from anti-mask customers.
Kroger also closed two Seattle stores, after they passed a similar ordinance. But for all of the company's posturing, it should be noted that they themselves had voluntarily increased worker's pay during the pandemic by $2 an hour. Including the stores they claim that an additional $2 on top of that would be unsustainable. Surprisingly unfeasible for a company that saw record profits during that same time.
In 2020, Kroger saw an operating profit of $28B. Yes, BILLION! They even spent over $1B, $1.3 to be exact, on stock buybacks. Increasing dividends to shareholders by $534M. Dividends distributed in 2019 stood at $957M. That's 10x the additional operating costs to give hero/hazard pay to the very employees who made those profits possible.
Kroger's CEO, W. McMullens saw his 2020 pay increase from a very hefty $8M in 2019, to $21M in 2020. Considering the average Kroger employee makes a little over $25K a year, that's 789x more. For ONE employee. The top six executives at Kroger average annual pay of $8.7M.
So while the major corporation not only balked at the thought of giving a few bucks an hour more to its most valuable employees, it didn't hesitate to 'reward' its shareholders and executives with over a billion dollars in combined compensation and benefits.
Companies and corporations have a responsibility to give back to the communities they serve. And leaving those who need their services most, like those in Ilinois where Kroger also decided to close stores they deemed unprofitable, in food deserts isn't it. Low-income people don't spend less on groceries, they spend more. Without the options their suburban co-horts have, multiple grocery stores, shops and markets to choose. And being that many low-income customers are on SNAP benefits, you can also cross dining out as an option.
It's time to start putting people over profits. Kroger, shame on you!
Check out Ty's book THE POWER OF PERSPECTIVE. It's a collection of affirmations she wrote to get her through a difficult time in her life. Words of wisdom that apply to anyone, and everyone, to get through the hard times. If you're questioning yourself, and need a reminder that you are in control… Click HERE to order your copy.
Contact the Feature Writers