Couple Adopts Seven Children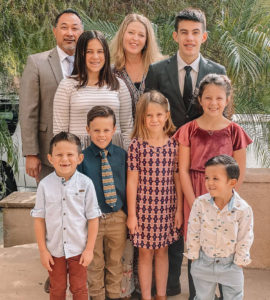 By Janet Grace
Hi, All. I am easing back in after placing Twitter in Time Out for a minute. All News All The Time, was included in that mini-vacay. I happily admit that I do not have a clue as to what the hell is going on in politics or in the politics of Twitter, either, SMH. We still don't have an edit button.
I think the heat of the summer is beginning to simmer. I want to take a moment
to breathe in some of that wonderful goodness by sharing about a beautiful story I saw highlighted in a "People" exclusive for a Mother's Day Special on Face Book Watch's "Red Table Talk".
Jada Pinkett Smith, her mom, Adrienne Banfield-Norris, and her daughter, Willow, sat down with Mrs. Pam Willis and husband, Gary, to discuss how it came about that they adopted seven siblings despite their having been done with the parenting of their own five grown children.
It seems a Face Book post detailing how the children had been in foster care for over a year (by the time she became aware of their existence) following the death of their parents, provoked Pam to forward the post to her husband thinking he'd xnay the idea but he was feeling the same and although they'd never discussed adoption, they both knew that the children: Adelino, 15, Ruby, 13, Aleecia, 9, Anthony, 8, Aubriella, 7, Leo, 5, and Xander, 4, would be separated had they not stepped in. They couldn't bare the thought, so they jumped in feet first, adopted the children and all lived happily ever after.
Wasn't that nice? Good. I'm glad.
Guys, get those flowers for all the Maternal Figures in your lives. Don't forget those who've gone before you or the wombs from whence you came.
They'd delight from a nicely scented candle, incense or a simple mention of thanks.
Let me get back to reading about that skunk, McConnell. His may be the next head on my spike in my next article, but for right now, Happy Pre-Mother's Day Week.
Blessed be,
JG )O(
[si-contact-form form='2′]