Sony PlayStation is the Next Stop for Art of Rally Coming This Summer! – Gaming News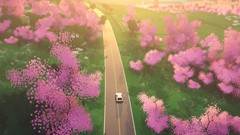 Indie game dev Funselektor has officially announced today in a new trailer that his critically acclaimed racing game art of rally will release on the PlayStation 4 and 5 this summer 2021.
The PlayStation version of art of rally will benefit from all previous updates published on its PC counterpart, including the next-to-come major "Kenya update" that will release simultaneously with the Console launch.
With a Metacritic score of 80 and an "overwhelmingly positive" (2069 user reviews) on Steam, art of rally is a stylized driving experience inspired by the golden era of rally that takes the players all across the world to drive through beautiful and soothing environments inspired by real locations from Finland, Sardinia, Norway, Japan and Germany.
About the Kenya Update:
? 6 new challenging stages in breathtaking locations, including Mount Kenya and Lake Victoria
? 1 free-roaming map to chill under the African sky
?️ 4 new cars, vroom
? 2 new songs
? Zebras, giraffes, elephants!!!!!
About art of rally:
Progress through the golden years of rally in Career Mode
61 iconic rally cars from the 60s to the '90s, Group B, Group S, Group A
60 rally stages in Finland, Sardinia, Norway, Japan and Germany
Daily and weekly challenges with leaderboards
Photo and Replay mode for sharing screenshots
Ghost racing: Push your limits and chase your own best scores
Vrooooooooooooooom ?