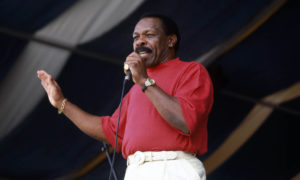 By Geoffrey Huchel
R&B singer Lloyd Price died May 3, 2021, in New Rochelle, New York from complications with diabetes. The Rock and Roll Hall of Famer was 88.
In 1952, Price was discovered by record producer, Art Rupe who was on a visit to New Orleans, after hearing Price's song "Lawdy Miss Clawdy", Rupe wanted to produce it. Backed by a band, Price recorded the song and ultimately went to Number One on the charts. From 1952-2012 Price released 16 studio albums and released over 30 singles including "Stagger Lee", "Oooh-Oooh-Oooh", "Restless Heart", "Ain't It a Shame", "Lady Luck", "I'm Gonna Get Married", "Just Because", "Come Into My Heart", and "Personality", from which he was given the name "Mr. Personality."
For his accomplishments and contributions to the music industry Price was inducted into the Rock and Roll Hall of Fame in 1998.
During the 1970s, Price got involved with boxing and helped the boxing promoter Don King promote fights including the "Rumble in the Jungle" boxing match between Muhammad Ali and George Foreman.
Ringside Report sends our condolences to Lloyd Price's family during their time of grief.
Contact the Feature Writers