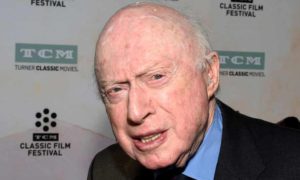 By Geoffrey Huchel
Screen legend Norman Lloyd died May 11, 2021, in Los Angeles, California. No cause of death has been disclosed. He was 106.
Lloyd had a long and successful career in all facets of entertainment including theater, radio, television and film. Some of his theater work includes productions of "Alice in Wonderland", A Bride for the Unicorn", Gods of the Lightning", "Gallery Gods", "Caesar", "The Shoemaker's Holiday", "Quiet City", "King Lear", and "Measure for Measure."
Lloyd will be best remembered for his many appearances in films such as SABOTEUR (1942), THE SOUTHERNER (1945), SPELLBOUND (1945), DEAD POET'S SOCIETY (1989), THE AGE OF INNOCENCE (1993), and FAIL SAFE (2000). His additional film credits include THE UNSEEN (1945), IN HER SHOES (2005), and TRAINWRECK (2015).
Lloyd may be familiar to audiences for his work on television series such as ALFRED HITCHCOCK PRESENTS (1955-1962), KOJAK (1973-1978), QUINCY M.E. (1976-1983), THE TWILIGHT ZONE (1985-1989), ST. ELSEWHERE (1982-1988), MURDER, SHE WROTE (1984-1996), THE PRACTICE (1997-2004), and MODERN FAMILY (2009-2020).
Ringside Report sends our condolences to Norman Lloyd's family during their time of grief.

Contact the Feature Writers