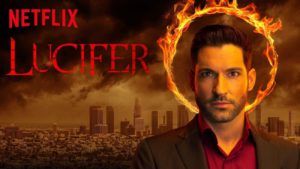 By Janet Grace
I couldn't be any more excited unless we'd all awaken tomorrow and it was the morning of November 3rd, 2008, and we had the chance at a do-over.
But, here we are.
Lucifer's Coming. Wait! Where're you going? Well, that scared off the meek at heart! Ah! A few returned … for their coats, umbrellas..
Kidding aside, besides the double, sometimes triple plots happening simultaneously … Excuse me, a moment. What are you saying? That's the wrong show I'm describing? This one barely has a plot? No! Don't they have, like, umm .. you know, that renegade they call Mazekeen? She's so big and bad, yet, she looks like all the girls did, in my tenth grade class, including the 29 switchblades, lol?
I couldn't even turn on the show when it first came on, just for principle's sake. I'd make the sign of the Crisps and use that commercial time to fill my plate, and let the dogs out, refill my beverage, let them back in, lock up and jump in the couch ready for anything, but THAT!
When it was granted a second season and the actors were still doing well; both on and off stage, no one was found lurking in the bushes, no freaky-deaky accidents, I took a gander and herein, found, the perfect, wind-down show.
Silly humor with an off-beat plot and enough skin to make Hannibal gulp, but it's a harmless, fun show. I haven't exploded, knock wood, so, I'll do the hokey pokey, douse myself in 90° alcohol and light a .. never mind. If you were to follow that lead, you'd no longer be reading this book, if it even exists. .. After the blast, I mean. Too soon?
The lesson here is to make sure you read everything I pen in it's entirety. Just kidding. Not.
So, Y'all already know that I give away no information whatsoever. There will be no spoilers here. OMG, for real. Not even God coming down from the Heavens will have me give away this seasons plot! Just Saying!
So, now is a good time to catch up, and do have a good favorite to curl up with. This one going to be fun. Personally my favorite is Malbec.
Catch you in town, Clown.
Blessed be,
JG )O(
Contact the Feature Writers