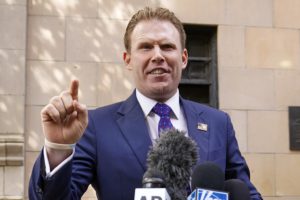 By Nikki Slusher
The Tweedle Dee to Eric Trump's Tweedle Dumb has made his debut as the most annoying Giuliani on TV right now.
Yesterday Andrew Giuliani, who's the son of disgraced Rudy Giuliani, announced to CNN that he is going to be running for Governor of New York in 2022. He will be running for the GQP nomination to take the position from current Democratic NY Gov. Andrew Cuomo. Earlier this year, Cuomo became entangled with sexual harassment claims and sharing incorrect information on nursing home Covid-19 deaths.
Giuliani is running in a Democratic stronghold, and his close association to former President Trump may be a liability to his chances considering Trump's unpopularity in the state. "We're running for all New Yorkers," he told CNN even though he will be on the GQP ticket. "This is for any New Yorker that believes in 2022 we need to save New York," he continued. If anybody was wondering if New York will ever "come back" although it never left, Giuliani says, "I believe we can stay, and fight and we will win." Those are some interesting choices of words considering how familiar they sound.
With his only experience being under the Trump administration serving in the White House's Office of Public Liaison, CNN noted that his website says under experience that during this time he "was directly involved with several initiatives that saved millions of Americans jobs amid the coronavirus pandemic." Let it be noted that Giuliani's other achievements include failing Trump University and making "Eric Trump look like valedictorian at Harvard" per Trump's former personal attorney Michael Cohen. He's absolutely perfect for the job!
Giuliani said he decided to run after helping the former president settle into Mar-A-Lago when he felt "intangible optimism" similar to "that feeling I used to get" when walking through NYC or NY state. "The President said to me, he said, you know 'Holy smokes Giuliani — Cuomo, that's like Ali-Frazier,'" he said. Giuliani continued, claiming that "I think it will be the biggest race in the country if it's the two of us." He proudly stated he would gladly point out how New York has failed under Cuomo during the last ten years. Gov. Cuomo has yet to say if he will run for a fourth term next year.
Giuliani's father is at the center of a DOJ probe regarding his work for the Ukraine under the Trump White House. Andrew told CNN it is simply "a political investigation." He further denied his father did any wrongdoing. "In time he's going to be completely vindicated," and people will realize this is "another instance of the justice department going way way overboard."
From Matthew McConaughey in Texas, to Caitlyn Jenner and Randy Quaid in California, and now Andrew Giuliani in New York, it's looking like the 2022 Gubernatorial races are one giant Joe Rogan podcast.
Contact the Feature Writers