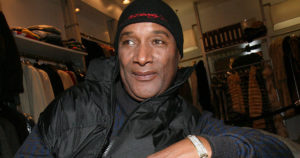 By Geoffrey Huchel
Paul Mooney, the comedian, writer and actor known for his appearance in THE BUDDY HOLLY STORY (1978), died May 19, 2021 of a heart attack in Oakland, California. He was 79.
As a writer, Mooney worked with Richard Pryor on several of his shows and specials, including THE RICHARD PRYOR SHOW (1977), RICHARD PRYOR: LIVE IN CONCERT (1979), RICHARD PRYOR: LIVE ON THE SUNSET STRIP (1982), and PRYOR'S PLACE (1984-1985), and wrote some of the material for Pryor's SATURDAY NIGHT LIVE (1975-) appearance. In addition, he wrote for SANFORD AND SON (1972-1977), IN LIVING COLOR (1990-2006), THE ROSEANNE SHOW (1997-2000), CHAPPELLE'S SHOW (2003-2006), and for his own shows and specials JUDGE MOONEY (2004), PAUL MOONEY: IT'S THE END OF THE WORLD (2010), PAUL MOONEY: THE GODFATHER OF COMEDY (2012), and PAUL MOONEY: A PIECE OF MY MIND- GOD BLESS AMERICA (2014).
As an actor he appeared in GOOD TIMES (1974-1979), BUSTIN' LOOSE (1981), IN THE ARMY NOW (1994), THE LARRY SANDERS SHOW (1992-1998), BAMBOOZLED (2000), CHAPELLE'S SHOW, and JUDGE MOONEY.
Ringside Report sends our condolences to Paul Mooney's family during their time of grief.
Contact the Feature Writers