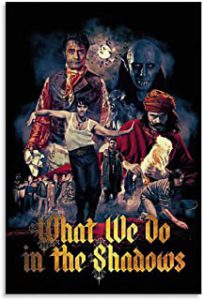 By Janet Grace
Imagine Ungodly Three Stooges.
That is all I need to tell you about What We Do in the Shadows. The series began as a 2014 New Zealand parody, a "mockumentary", horror comedy film. It was written, directed, starred in by Taika Waititi and Jermaine Clement. It's plot revolved around the lives of a nest of Vampires sharing a flat in Wellington.
What We Do in The Shadows Series, is a "mockumentary" about four Vampires living in the heart of Staten Island, New York, for centuries. This; of itself; is a laugh and a half, for we; current or former, Staten Islanders. Of COURSE, they'd live there! They'd completely go unnoticed, too. I can't say the same for the missing pets in the neighborhood.
These Vampires are the Campy Stooges of Old Lore. If it can go wrong, it will go wrong, in this particular house. The mid-air fight scenes must've been shot a dozen times for them not to have been laughing hysterically, the way they provoke the audience to do, while watching.
These previously unknown talented actors are none other than the following:
Miss Natasia Charlotte Demetriou, an English Cypriot comedian, actress, screenwriter, best known for her roles as Nadja, in the horror comedy entitled "What We Do in the Shadows" and as Sophie in the Channel 4 sitcom: Stath Lets Flats. She's won the Critics Choice TV Award for Best Actress in a Comedy Series 2020 for What We Do In The Shadows.
"Kayvan Novac, a British Actor, Voice Actor and comedian, is best known for co-creating and starring in the Comedy Series, Fonejacker, from 2006 to 2008, with a run-off in 2012." All credit for this information goes to Wikipedia.
Matthew Charles Berry, no relation to Chuck, is an English comedian, musician and writer. He has starred in quite a few shows: The It Crowd, Garth Marenghi's Darkplace, The Mighty Boosh, Snuff Box. He also co-created and starred in the Channel 4 sitcom Toast of London. he won the 2015 BAFTA Award for Best Male Performance in a Comedy Programme. [1] More recently, he has starred in the FX television series What We Do In the Shadows since 2019.
Season 3 has already begun. If you have never seen this series and you like that type of humor which makes some cringe, ex: "The Office", "Parks and Recreation" then, this one is the blood sucking series for you, mate.
Enjoy all you can in life. It's free.
Have a great week, All.
Blessed be,
JG )O(
Contact the Feature Writers