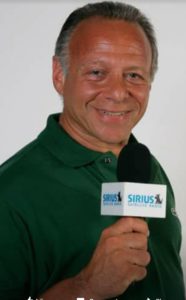 By Randy "The Commish" Gordon
Enough!
I'll shout it from the rooftops. I'll shout it from my SiriusXM microphone. I'll shout it here on Ringside Report.
Enough!
ENOUGH!
Just when I thought we had the end of these money-grabbing crossover fights; just when I thought we had seen the end of non-sensical exhibition sparring sessions we're asked to pay several Jefferson's for; just when I thought we had seen the end of old, faded fighters returning to the ring on the verge receiving their AARP cards—or having received them a long time ago—a new slate of oldtimers show up and say they're coming back!
Only recently, the "Golden Boy," Oscar De La Hoya, announced his intention to return to the ring. It'll be in a "crossover" fight against an MMA practitioner. While nothing is firm yet, the name which has been tossed around is former UFC Lightweight Champion Eddie Alvarez, who is 37, and whose last win by stoppage on strikes/punches came back in July 2016. As for De La Hoya, his last fight was before Barack Obama won re-election to a second term as the 44th U.S. President. The date was December 6, 2008.
To refresh your memory, Oscar was 39. His opponent was Manny Pacquiao. He was 29. The only time the outcome was in doubt was right before the opening bell. After that, it was all Pacquiao.
The fight ended after the eighth round of a one-sided blitzkrieg by Pacquiao. Following the contest, Golden Boy, the fighter, became Golden Boy, the promoter.
Comebacks are nothing new to boxing. They are part of the fabric of the sport. But there is a difference between a comeback a money-grab. A comeback is something Muhammad Ali did after his three-and-a-half year exile from 1967-1970. A comeback is something Sugar Ray Leonard did in in April 1987, against Marvelous Marvin Hagler, after his less-than-spectacular win—and subsequent retirement—against Kevin Howard in 1984, and several other times in his career. A comeback is what Tyson Fury did after beating Wladimir Klitschko on November 28, 2015, then sitting out for the next two-and-one-half years battling substance abuse and mental issues.
A money-grab is the selling of a "Pet Rock" or a "Mood Ring" to the gullible public. Both were mildly and momentarily entertaining but neither served a useful purpose, other than to make its creators rich back in the 1970's. Combat Sports' "Pet Rocks" and "Mood Rings" are the same kind of money-grabbers.
On August 26, 2017, Floyd Mayweather, JR. and Conor McGregor teamed up for the biggest money-grab/"Pet Rock" sale in the history of boxing. Their "Pet Rock" sale, which Mayweather, JR. won easily via 10th round stoppage, did a record 4.3 million buys.
Boxing fans knew their guy (Mayweather, JR.), who was 49-0, had no chance of losing to the MMA guy (McGregor), who was making his boxing debut. Incredibly, MMA fans felt the same, but the other way.
"McGregor is going to destroy your guy," one MMA practitioner who works out in a gym I frequent, said to me. In fact, every MMA practitioner in the gym felt the same way.
"McGregor is going to hand Mayweather, JR. his first defeat," one MMA fan said to me.
"Mayweather, JR. bit off more than he can chew," said another.
I was amazed at how the MMA World embraced this contest. I, along with my SiriusXM partner, Gerry Cooney, decided to attend the fight in Las Vegas. From the moment we boarded the plane in New York, we knew we were headed to a special event: the plane was packed with McGregor supporters. Throughout the nearly five-hour flight, they let us playfully know who they thought would win.
One entrepreneurial fan, wore a shirt with "49-1" emblazoned across the chest. The number signified what MMA fans envisioned Mayweather, JR.'s record would be after facing "their guy" McGregor.
"I have made up hundreds of these shirts, and will sell every one of them," the business-minded guy—who recognized us—told me and Cooney. He even gave us each a shirt.
In the two days before the fight, Cooney and I walked around the packed MGM Grand and also ventured outside onto The Strip, where, 35 years earlier, Cooney did his roadwork in the early-morning hours before facing Larry Holmes in one of boxing history's richest, most-anticipated heavyweight title fights.
While walking outside, we saw vendors selling programs, hats, shirts, photos and programs. We saw hustlers looking to sell and buy hard-to-get tickets to the event. We even saw the "49-1" shirt entrepreneur on a street corner outside the MGM, hawking his product.
"Hey, why aren't you guys wearing my shirt?" he asked.
"We're boxing guys," Cooney said to him. "We can't be rooting for McGregor! But we love the shirts! If McGregor wins, we'll wear the shirt on the flight home." Then Cooney asked, "How's business?"
"I'll be sold out in another few hours," the guy told us.
We wished him luck with his sales and kept walking.
"We should have made up shirts which said '50-0,'" I said to Cooney. He laughed, adding, "Only boxing guys would have bought the shirts. There are far more MMA fans here than boxing fans. Every one of those suckers really think McGregor has a chance."
Cooney and I knew McGregor stood zero chance of beating Mayweather, JR., especially after seeing video of McGregor working out…Sparring…Hitting the pads…Hitting the heavy bag. What we saw told us what every MMA fan failed to see: That Mayweather, JR. was going to win the fight—one-sidedly. Easy! Mayweather, JR. knew this would be one of his easiest fights. In addition to an easy fight, he knew this was going to be his biggest payday. Most likely, McGregor himself probably knew he stood not a chance to beat Mayweather, JR. But he had 100 million reasons why he would go through with the fight.
So, the event went on. And what an event it was. The T-Mobile Arena was sold out. So was every hotel along The Vegas Strip. Yes, Mayweather, JR.-McGregor was every bit the event we thought it would be. It also was every bit the mismatch we expected. MMA fans and Conor McGregor fans loved the event, but were highly-disappointed at the outcome. They were certain that the product they were buying was not a "Pet Rock."
Reveling in his overall take of considerably over $200 million, Mayweather, JR. returned 16 months later with another money-grab. This time, the much-hyped event took place in Tokyo. Mayweather, JR.'s opponent was kickboxing star Tenshin Nasukawa.
The kickboxer, who was 20 years old and unbeaten, was a national hero. His promoters, called RIZIN Promotions, were willing to part with $9 million as Mayweather, JR's end of the purse. The bout was being called a three-round exhibition between the boxing legend and the undefeated kickboxer. RIZIN quickly became CRASHIN as Mayweather, JR. toyed with the much-smaller Nasukawa and deposited him three times on the canvas in the first round, forcing his corner to throw the towel in and leaving Nasukawa in tears.
Ever since Mayweather, JR. and McGregor did their initial money-grab thing (you don't expect me to call it a "Fight." do you?), it's given rise to a slew of crossover fights (boxers Vs non-boxers), comebacks and even given birth to "Combat Entertainment" on networks like Triller.
A recent event saw a top-level boxing match; Hip-Hop; Rap; A Youtube star kand knocking out a former MMA champion who was never a known stand-up striker and whose best days were long behind him; A performance by Justin Bieber; and a slap-fight between two, big, overweight tough guys? We saw a former NBA star get KTFO'd. What's next? Why not a slap-fight between two bikini-clad beauties? Know what? I think I just gave them an idea!
Coming up is Floyd Mayweather, JR. and his 50-0 record against Youtube star Logan Paul, a 190-pounder who is 0-1 as a boxer. That'll be seen on Showtime PPV on June 6.
Don't go away! Logan's hard-hitting brother, Jake, just signed with Showtime. What do you think the plan is there? Easy.
When Mayweather, JR. gets done thrashing Logan, it'll be Jake's turn to face Mayweather, JR. Hey, Jake's got first-round flattenings of a former NBA star and a former MMA champ.
Before facing the wealthiest fighter in history, perhaps Jake should take one more tuneup fight. How about a retired former Chess Champion or retired Billiards Champ? The possibilities are endless!
Boxing legend Julio Cesar Chavez, SR. is returning on June 19 to face Hector Camacho, JR. at Jalisco Stadium in Guadalajara, Mexico. But wait! There's more great news: On the undercard, Chavez' son, JCC Jr., 35, and loser of three of his last five bouts, takes his more-often-than-not unprepared genes into the same ring in Guadalajara against UFC legend Anderson Silva, who is a trim and ready 46.
Then there's Mike Tyson against Roy Jones, JR.
There's Evander Holyfield against the man who handed Tyson his last defeat (in 2005), Kevin McBride.
If we're really lucky, we'll get to see a trilogy fight between Holyfield and Tyson.
Why stop there?
Let's bring back Shannon Briggs, Jarrell Miller (at 32, he may be too young) and former heavyweight contender Jose Ribalta, who is 58, but works out regularly.
Why not George Foreman? Reports say he still knocks heavy bags off their chains in the gym. And he's only 72.
Speaking of 72, Larry Holmes is also 72. He and Foreman were set to fight in 1999, when they were only 50. However, the promoter couldn't come up with the money. Now is as good a time, however. With these streaming services and fans willing to shell out big money, Larry Holmes Vs George Foreman can finally happen!
Yes, I was screaming "ENOUGH!" before. I am not, any more.
I now am pushing for every comeback and crossover fight out there.
In fact, I have one more for you.
I have been watching this guy train in his gym in Scotch Plains, New Jersey. He is 6'6" and is 255 ripped pounds. His name is "Gentleman" Gerry Cooney. He's only 64.
He works out on a regular basis.
Give him the rematch he should have had against Larry Holmes 39 years ago. Give him a rematch against George Foreman. Their fight was only 31 years ago.
Enough? No way! Bring 'em all back.
As our Editor, "Bad" Brad Berkwitt would say: "Fuggedaboutit!"
Randy "The Commish" Gordon is the Author of the hit book, "Glove Affair". Order your copy by clicking HERE.
Contact the Feature Writers