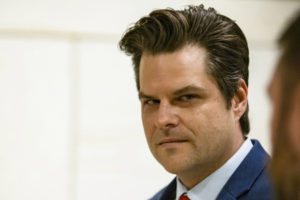 By Nikki Slusher
A Florida man accused of sex trafficking and paying for sex has announced if Donald Trump doesn't run for president in 2024 he will. Rep. Matt Gaetz announced his possible presidential bid via text messages the congressman sent to the New York Post.
Gaetz told the Post, "I support Donald Trump for president. I've directly encouraged him to run and he gives me every indication he will. If Trump doesn't run, I'm sure I could defeat whatever remains of Joe Biden by 2024." Gaetz is currently on his "America First Tour" with controversial congresswoman Marjorie Taylor Greene (R-GA).
During one of the dumb duo's rallies, Gaetz told supporters they should "use" their Second Amendment rights and that the amendment's right to bear arms means an "armed rebellion" against the government rather than for hunting. Yesterday he denied he was trying to incite any violence.
While Gaetz enjoys his final national tour as a free man, federal authorities are currently investigating accusations of Gaetz's alleged engagement in a sexual relationship with a 17-year-old girl and IG his involvement with other young women broke federal sex trafficking and prostitution laws per sources familiar with the investigation.
CNN reported this week that the woman at the center of the investigation has agreed to cooperate with investigators. Per reports the woman's willingness to work with authorities comes shortly after former Seminole County disgraced tax collector, Joel Greenberg, pleaded guilty to six out of 33 charges he was facing. Greenberg is a longtime friend and associate of Rep. Gaetz. One of the charges in his guilty plea including sex trafficking of a minor.
Gaetz has denied the accusations claiming they are part of an extortion attempt. Venmo receipts, however, show that the men sent one woman $600 for "Ass" and $1000 for "Salad." It's clear that the next president must be a woman because men are too Venmo-too Mal to lead this country.
Contact the Feature Writers