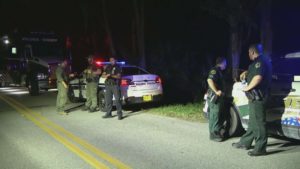 By Ty Ross
In Volusia County, FL last evening, a 14 year old girl and 12 year old boy opened fire on Sheriff's deputies from inside a vacant home. The juveniles were reported missing from a group home in Deltona prior to the shooting.
Neighbors contacted the police after hearing the sound of glass breaking in a home nearby.
The pair were armed inside the home with a shotgun, AK-47 and over 200 rounds of ammunition. Sheriff's deputies tried to de-escalate the volatile situation, by talking to the kids and getting them to come out of the home. Instead the 14 year old opened fire on the officers, leaving them no choice but to return fire.
The girl was struck by several bullets while the boy, unarmed, surrendered.
Their ages have not been published due to the juveniles' ages. It isn't known what prompted the pair to flee the group home, what their motives were or how they got a hold of two assault weapons. It has been reported that the girl in question has been in trouble multiple times over the past year, including burning down the halfway house where she was residing before being sent to the group home in Deltona.
This is a developing story.
Check out Ty's book THE POWER OF PERSPECTIVE. It's a collection of affirmations she wrote to get her through a difficult time in her life. Words of wisdom that apply to anyone, and everyone, to get through the hard times. If you're questioning yourself, and need a reminder that you are in control… Click HERE to order your copy.
Contact the Feature Writers