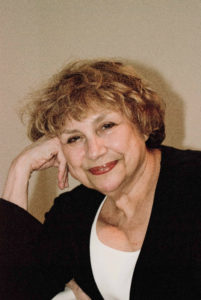 By Diane Batshaw Eisman, M.D. FAAP Doctor Eisman, is in Family Practice in Aventura, Florida with her partner, Dr. Eugene Eisman, an internist/cardiologist
Looking elegant in my Hazmat suit, mask, face shield and gloves, I entered the exam room.
My masked patient approached me, sleeve rolled up, arm extended.
"Back!" I shrieked in my most curmudgeonly voice,
"Sit!" I then said, indicating the chair six feet away from me.
(Although I am happily vaccinated, I remain a firm believer in continued protection. This crazy beast of a virus keeps me on red alert)
"Just look at my arm! There! It's still bluish."
Observing his arm, I could only note a small bruise. Palpating the area, there was no tenderness, no swelling.
He had been discharged from the hospital two days before, and, of course, his veins had been tortured with the drawing of blood and insertion of IVs. He understood that it was all necessary and important for his care and diagnosis. Yet, he was concerned about the blue area where the intravenous line had been inserted. After reassuring him, he left the office with a smile on his face. (Yes, I could tell that he was smiling as his eyes crinkled up quite nicely)
Returning to my office, I removed the Teddy Bear from my chair. As I sat down, I began to think about intravenous fluids. Realizing that it was just one of the many things that we now take for granted, I allowed my thoughts to wander.
As far back as the seventeenth century it was known that fluids could be injected into veins. But how to do that?
Ah! Therein lies a tale that needs to be told.
Dr. William Brooke O'Shaughnessy was a 22 year old Irish physician, just out of medical school and living in Edinburgh. At that time, Cholera was running rampant in England.
Interested in Chemistry and wanting to make a name for himself, while having a bit of adventure, he traveled to Sunderland in England. The epidemic was overwhelmingly horrible. He found that leeches and emetics were used to purge the patient. Being of a scientific mind, he took the time to actually examine the stools of these patients. Observing that great amounts of bicarbonate, chloride, sodium and water were being lost, he got "The Lancet" to publish his findings. So simple, yet so radical for those times: Just replace what was lost through the bowels and get it smack dab into the veins.
Along came Dr. Thomas Latta, who read" The Lancet" and became the pioneer in intravenous therapeutics. Using a syringe and a tube, he was able to rescue several Cholera patients with his homemade infusion of sodium chloride and bicarbonate.
Dr. Latta's own words best describe this epochal first use of intravenous therapy:
"Having inserted a tube into the basilic vein, cautiously, anxiously, I watched the effect; ounce after ounce was injected, but no visible change was produced. Still persevering, I thought she began to breath less laboriously; soon the sharpened features and sunken eye and fallen jaw, pale and cold, bearing the manifest impress of death's signet, began to glow with returning animation; the pulse which had long ceased, returned to the wrist, at first small and quick, by degrees it became more and more distinct, fuller, slower and firmer, and in a short space of half an hour, when six pints had been injected, she expressed in a firm voice that she was free from all uneasiness, actually became jocular, and fancied all she needed was a little sleep; her extremities were warm, and every feature bore the aspect of comfort and health."( WJ Daly and HL DuPont
 (2008) The Controversial and Short-Lived Early Use of Rehydration Therapy for Cholera. Clin Infect Dis. 47(10): 1315-1319)
Thank you, Dr. O'Shaughnessy.
Thank you, Dr. Latta
Thank you for blue bruises on our arms.
Doctor Curmudgeon® is Diane Batshaw Eisman, M.D., a physician-satirist. This column originally appeared on SERMO, the leading global social network for doctors.
SERMO www.sermo.com "talk real world medicine"
Dr. Curmudgeon suggests "Bitter Medicine", Dr. Eugene Eisman's story of his experiences–from the humorous to the intense—as a young army doctor serving in the Vietnam War.
Bitter Medicine by Eugene H. Eisman, M.D. –on Amazon
Contact the Feature Writers