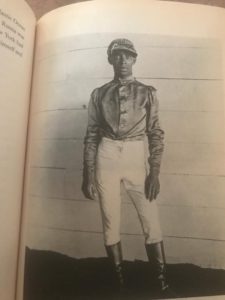 By Ty Ross
Every May Churchill Downs, is home to one of the most watched sporting events in the world, The Kentucky Derby. Held in Louisville, KY, attendees of the first leg of the Triple Crown (Preakness in Maryland and Belmont Stakes in NY round out the coveted trio), include a who's who list of the rich and famous. Both inside and outside the horse racing world.
On the prestigious and coveted box seats among Millionaire's Row it is not uncommon to see everyone from politicians to entertainers, owners, trainers and past derby winners rubbing elbows. As the wealthy men and women sip mint juleps in their Sunday best. The women are dressed to the nines, and famous for wearing extremely large and ornate hats. The men in their finest suits. Everyone who's anyone in the horse world is there.
The inaugural "Run for the Roses" had it's first race 146 years ago. Little known fact, the first winner of the Kentucky Derby was African-American. May 17, 1875, Oliver Lewis would be the first jockey to receive the prestigious prize. While Lewis would be the first, African-American, he would not be the last to win The Kentucky Derby. In fact 12 of the first 22 Kentucky Derbies were won by African-Americans. Black jockeys dominated the sport of horse racing winning at tracks all over horse country. Including the now closed Latonia Racetrack, where 8 of the 13 Latonia Derby winners and 6 of 13 Latonia Oaks winners were African-American.
Horse racing was big money, it still is, and the number of black men winning races and the hefty purses that came with them did not go unnoticed. It wouldn't be long before there were complaints that whites were being left off horses. Horse racing, in the words of not just the last African-American jockey to win the Kentucky Derby, but the most celebrated, Jimmy Winkfield "horse racing was one of the few careers where a black boy could make good. On the racetrack." And he wasn't wrong. It was one of the few chances a black man had to beat a white man, and not be lynched for it.
Born to a former slave, Jimmy's father won his freedom as a Union Soldier. Jimmy was a stable boy, and thus his love of horses was solidified. But he didn't just want to care for the horses, he wanted to ride them. And ride he did. Jimmy was a force to be reckoned with and in 1901, the year he won his first Kentucky Derby, he ended the year with a total of 220 wins. He would follow that up with a back-to-back win in 1902. He came in second in 1903, but the year prior would be the last one to see a black jockey win the Derby.
Married to a black Kentucky woman at the time, his one true love would always be horses. So he picked up and moved to Russia where he could continue to be a jockey. Leaving his wife Edna behind. Russia was a completely different world for Jimmy. There he was treated, despite his race, with the dignity, respect and humanity that no matter how successful he was in the US, he would never receive. He won The Moscow and Russian Derbies, The Russian Oaks. The Czars prize, and the Warsaw Derby. He found himself socializing with the Russian elite. While his wife Edna made the trip to Russia in an attempt to rekindle things with her husband, the marriage was all but over. Jimmy had his eye on another prize. Romantically. A Black American woman living in a foreign country without the status of her husband was no place for Edna. She gave Jimmy a divorce and not long after he married the daughter of a Russian soldier. Fluent in both Polish and Russian, things were good for Jimmy until 1917. The Bolshevik's and Russian revolution forced Jimmy to flee Russia. Barely escaping with his life.
He settled in Maison Laifitte, France, soon retired and began his next career as a horse trainer. And he was very successful. But Jimmy had a wondering eye, and the second of his three marriages wasn't going very well. Jimmy had an affair that embarrassed his wife, and her family. But they continued to share a love of horses. Jimmy's expertise and success as a jockey, made him one hell of a trainer. By the time he retired from racing, he had over 2500 wins under his saddle. On two continents.
But all of that meant nothing once Hitler and the Nazis rose to power in Europe. Eventually spreading to France. One day Winkfield came home to find his stables occupied and Nazi troops surrounding his own. They confiscated his property, but he was allowed to leave France.
Two failed marriages, and with no chance to rise to the kind of prominence in the states that he experienced in Europe, Jimmy supported himself doing odd jobs. Once World War II was over, and Hitler defeated, it would be almost another decade before Jimmy was able to win enough money to make his way back to France. And Maison Laifitte. He would marry again. This time to a Russian Baroness. Jimmy got into the breeding and owning business with his wife. She was not only knowledgeable but had the title and status that allowed Jimmy access to those with power.
In 1960, Jimmy returned to the Kentucky Derby in honor of his 60 years in horse racing as both a jockey and trainer. But it was what happened in 1961, at the Brown Hotel that would sour Wink on his home country forever.
May 3, 1961, the National Turf Association would hold a banquet to honor all living Kentucky Derby Winners. Sports Illustrated hosted the event. Escorted by his daughter, Jimmy and she were stopped when they entered the hotel. Told by a doorman that 'their kind' was not allowed. Here is a man who had devoted his life to horses, had success beyond the dreams of many in the industry, and was being told he could not enter the very banquet at which he was an honoree. What should have been a proud moment, was instead one of humiliation and embarrassment. But he swallowed his pride and refused to leave. Finally, someone from Sports Illustrated came to the door and Jimmy and his daughter were allowed in and escorted to their table. Unfortunately, the humiliation would not end there, as pretty much everyone seated at their table refused to acknowledge them. All but one. 1913 Derby winner Roscoe Goose. Who would not only chat with Jimmy, but go on to be a friend. Disgusted with his treatment, Jimmy returned to France and didn't look back. He would remain at Maison Laifitte, until his death in 1974 at the age of 91.
It would be 30 years after his death before Jimmy Winkfield was inducted into the National Museum of Horse Racing and Hall of Fame. The next year, in 2005, the US House of Representatives passed a resolution honoring him and The Jimmy Winkfield Stakes is run in his honor.
Wink led a colorful and interesting life. One that would take him from the stables of Kentucky to Moscow, Russia where he dined with Czars. He fled American racism, escaped the Russian Revolution, and survived Nazi occupied France. Three failed marriages, and some kids along the way, he was by no means perfect but damn he was good. Some would argue the best. One thing is for certain, James 'Jimmy' Winkfield is an American legend whose legacy is solidified on that Kentucky dirt track. Every May, I watch the Run for the Roses, and remember and honor the man who redefined it.
Check out Ty's book THE POWER OF PERSPECTIVE. It's a collection of affirmations she wrote to get her through a difficult time in her life. Words of wisdom that apply to anyone, and everyone, to get through the hard times. If you're questioning yourself, and need a reminder that you are in control… Click HERE to order your copy.
Contact the Feature Writers