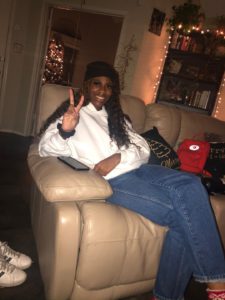 By Ty Ross
'Guess what happened at work yesterday' was a text I got from my oldest daughter this morning. She had just sent a text telling she made really good tips the night before, so I assumed she maybe had a celebrity customer who tipped her well or some crazy server stories from her restaurant. Nothing could have prepared me for what she was about to say.
When Kayla moved to Dallas six months ago, I was both excited and anxious. I have friends and family living in Dallas so I knew she wouldn't be alone, but still. Having your child move 600 miles away to a city 4x the size is enough to make any parent worry.
But being the Rock Star she is, Kayla had three job interviews set up her first week, and a couple of apartment tours. A month later she'd be chilling in her apartment, fully employed and a full-time sophomore at a great local university.
I text her back asking what, and waited (impatiently), before deciding to call her from my house phone. My cell still can't make or receive calls. Immediately she starts say 'so Erin's boyfriend comes in with a gun and…'. Whoa, whoa, whoa! WHAT?!? Then she tells me what happened.
It was busy, and with four servers calling off work Kayla, her friend and co-worker Erin and another server were left to work the restaurant alone. But that means more money, so they didn't mind. A restaurant located in a prime and heavily trafficked area of bars and restaurants. Not far from SMU, it's got a nice upscale customer base, and definitely not the kind of place you expect a near shooting to occur.
At this point, I'm anxious and trying not to panic. I mean, we're on the phone so she obviously isn't injured. That's something to be thankful for.
What Kayla tells me next sounds like a poorly written plot out of The OC, or 90210. Her co-worker had a really good table. Halfway into service, she'd already collected a few hundred in tips from a group and they were still going. One of them posted a video, in which she appeared, on Instagram highlighting their night. Somehow, it would be seen by her boyfriend. The night goes on, the restaurant is busy and the girls working hard. Unbeknownst to everyone, Hell was about to break loose.
Not long after in storms in the boyfriend. Jealous, angry. Going straight up to the group that his girlfriend was serving and pointing a gun at them. When Erin demanded to know what he was doing, an argument began and ended with him pointing the gun directly in her face and cocking the hammer. Sometime during this the police were called, and thankfully arrived before things went any further.
According to my daughter everyone was interviewed by the police over the span of hours, the boyfriend arrested and a restaurant full of staff, customers and innocent bystanders left to process what had just happened.
So many questions are running through my mind. What if the boyfriend had an assault rifle? What if one or more of the men in the group was armed and drew their weapon? Had things gone just a little bit differently, the call I got this morning could have been of a more heartbreaking kind.
I tried to Google the incident. When I typed in 'gunman restaurant Dallas', I got a long list of results. And I see:
– 3 gunmen open fire at north Oak Cliff restaurant
– Gunman sought after killing 21-yr old, wounding 7
– Deep Ellum shooting next to nightclub
– Woman critical, man arrested in Dallas restaurant shooting
All of these happened within one week of each other in May. What happened at my daughter's workplace was nowhere to be found. I guess unless a gun is actually fired, or someone shot and/or killed, it isn't newsworthy. With the horrors of mass shootings making the news almost daily, nowhere is safe. This while legislatures around the country seek to lessen, not strengthen access to guns. To think that my daughter, or some other innocent person could have been killed over a social media post and a jealous boyfriend.
I won't be sleeping well tonight. Or the next. Or the next. Mommy anxiety has been magnified. The reality setting in that I cannot protect my children. Not from work, not from school. And I don't even know how to tell them to protect themselves because it could happen anywhere and at any time.
I can talk to my daughter about how to protect herself from sexual assault, or theft. What precautions she can take to make herself a less accessible victim. I can teach my son how to behave when stopped by or around law enforcement. How to drive responsibly. But I can't protect them from buying groceries, going to work, walking in the park or doing something as mundane as sitting in their home watching television.
And the most heartbreaking part, is that millions of parents across the country are feeling what I feel right now. Because this is where we are. This is the country we have become. Where there is no such thing as safety and security anymore. But seek shelter, because you never know when you're going to need it.
Check out Ty's book THE POWER OF PERSPECTIVE. It's a collection of affirmations she wrote to get her through a difficult time in her life. Words of wisdom that apply to anyone, and everyone, to get through the hard times. If you're questioning yourself, and need a reminder that you are in control… Click HERE to order your copy.
Contact the Feature Writers