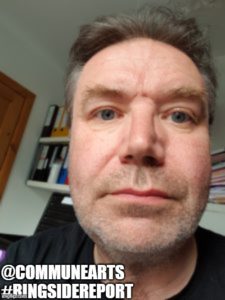 By Donald "Braveheart" Stewart
As I sit in my Kailyard I wonder often about the future.
In my hometown there is an Italian fast-food shop with a woman who has an enormous nose. Taking my stepson for food there was like an edition of jeopardy where you know the answer but are terrified about the question he would ask. Children saying things inappropriately are part of the joy of having them around… until they grow up.
When the grown ups speak, we hope that they shall never be inappropriate…
With the anniversaries of World Wars throughout the last decade, having anyone stand to make a memorial style speech brings attention. We strain our ears to find out what is likely to be the orthodox thinking in any event that is to be remembered.
We remember the fallen.
We take note of the sacrifice.
We show gratitude for it all and hope that it shall never happen again.
We all sigh in relief that it was so long ago and unlikely to revisit us.
Or so we assume…
The opportunity to have that feeling of comfort is something that has been, over the last few years in the USA somewhat politically charged. When the former President got up to speak, there was not a collective sigh; too many in the world were holding their breath.
We knew that what was to come was to be unorthodox, even petulant. When challenged the do you know who I am response was all too prevalent and obvious from the arrogance and the nonsense that we saw from him.
It was as if, instead of, bring your kid to work day, it was, allow your kid to run things season.
And so, in Europe we have just marked 75 years since D Day and settled into the thanks that comes from knowing a dark period of our history is way in the background. We have even managed this time round to change the narrative and acknowledged the Sikhs, Muslims, Indians, Africans and Commonwealth troops that fought and lost their lives as well as the white faced fresh ones we too often think were the only ones who even turned up to fight.
We also have seen a reimagining of the stories we tell our children over the history of our fair land as we have stopped pretending that being fair was the only color of the skin inhabited by those who built our nation but we have as many diverse geniuses as white ones.
It's quite refreshing.
But then again, I don't need to tell the USA that.
Any more…
When the Tulsa Race Massacre saw President Biden rise to speak, it was more a watershed moment than a watercooler one. It was one of the worst incidents of racial violence in your history. That a serving US President has never been to speak is unfortunate, even shameful.
That he went and gave people a beacon of hope was therefore admirable.
None of us worried about what he had to say.
I am quite sure there were some who will creep from their basements and complain loudly behind a keyboard about what was said. But then again, they can't read it but spout the retweet of the Facebook message that was written by somebody who couldn't be bothered to get out his head that even when they are wrong, the people they like are right.
The logic monkey is absent in their basement.
He said wise words and promised more, much more than fancy phrases with programs designed to lift people out of poverty and away from being the target of discrimination. He said, "For much too long, the history of what took place here was told in silence, cloaked in darkness. My fellow Americans, this was not a riot. This was a massacre, and among the worst in our history. But not the only one."
No, it was not the only one, but as we all know, it takes one step to walk miles. The first one is the most important one to take. Now it is taken, time to follow the new route map.
After a while, we found other fast food outlets too…
A view from the new Kailyard or, how you look over there, from over here…
(kailyard n. a genre of sentimental Scottish literature turned into effective invective comment from one Donald worth reading…)
Contact the Feature Writers