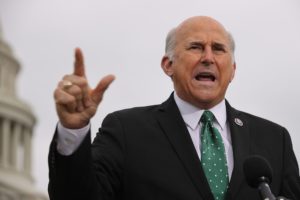 By Nikki Slusher
Over the last few months, we have seen a lot of idiots walk through the Capitol's doors as congressional members, but none have been quite as stupid as Rep. Louie Gohmert (Q-TX). I know some of you are going "but wait what about Marjorie Taylor Greene and Lauren Boebert" and you aren't wrong, they are tied for second place. It is Gohmert though that outdoes all of them to a whole other level of face palming every time her opens his mouth.
So, what did he do? Gohmert is simply asking questions. Questions like if the US government could change the rotation of the Earth's orbit around the sun.
Yesterday the House held a Natural Resources hearing to discuss issues involving climate change and other challenges our environment is facing. Gohmert proceeded to ask whether the Forest Service or the Bureau of Land Management (BLM) could alter the orbit of the moon or the Earth in order to fight climate change. You seriously can't make this shit up.
"I understand from what's been testified to the Forest Service and the BLM you want very much to work on the issue of climate change," Gohmert said to Jennifer Eberlien, the associate deputy chief of the National Forest System. He continued by saying that a past director of NASA had once told him "That orbits of the moon and the Earth were changing."
Gohmert then proceeded to ask Eberlien, "Is there anything that the National Forest Service, or BLM can do to change the course of the moon's orbit or the Earth's orbit around the sun?
Obviously, they would have profound effects on our climate."
"I would have to follow up with you on that one, Mr. Gohmert," Eberlien replied in the most diplomatic answer known to man. Gohmert finished his brilliant idea saying, "Well, if you figure out a way that you in the Forest Service can make that change, I'd like to know."
At the end of last month, Gohmert claimed that his SAT score would "shock people who think I'm the dumbest member of congress." Although he has yet to release his scores, it is clear that he passed the science portion with flying colors.
It seems as though Gohmert's brain cells have stopped orbiting in his head. Maybe a better way to fix Earth's rotation would be by using those Jewish space lasers he once was so worried about.
Contact the Feature Writers