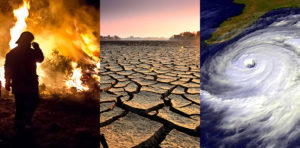 By Joyce Davis
I know there has been talk for years concerning climate change. I knew that climate change was happening but I never really bought into all the things that I needed to do to protect the climate. I felt like as long as I didn't do major things like pollute I was ok. I watched the movie Wallie and thought that it would be us someday. Earth will be ruined and we have no other choice but to head into space to protect our race. Other than that in my mind I am just one person and I don't make an impact on climate change.
Then Covid happened and something remarkable took place. We had no choice but to all be in doors. Not just in one state or one country but all around the world. I saw so many pictures of how places that usually have smog were clear after two weeks of people staying in doors. I especially enjoyed how the animals were free to roam about because there were no aggravating humans to bother them. Earth got a well needed break from us. I propose a thought to you.
Imagine having a sunburn. I have experienced this a couple of times and it is excruciating pain that does not cease if it is bad enough. After you get a sunburn in no way do you go back outside and subject yourself to the harmful, painful sun rays. You protect yourself. The action of humans gives the planet a sunburn. We used to be a '9 to 5' people but now everything is twenty four hours a day. The earth gets no rest from the harm we put it through.
We can not wait till the earth is unusable to decide we must act now. Already things are taking place that will be irreversible. Greta Thunberg is a hero to me. Although she is just a young girl she is out there educating people on climate change. Despite the criticism the politicians are giving her. Despite the bully tactics that Trump tried against her. She stands on her message and she also tries to be an example of the message. In reality she has to because she is fighting for her future.
Covid was a terrible thing that hit the world but it was an eyeopener for the conservation of climate change. We were able to see with our own eyes that what we did made a difference to our planet. My question is why are we not finding ways to do this more? If we see for ourselves that we can make cleaner air happen, zoo animals actually mating and now have babies because we are not around and animals feel free to come out and roam around, why do we not do it? Is it the all mighty dollar? Is it because we care more about capitalism than we care about the future of our kids and grandkids? What is the point of having millions of dollars when you end up dying from pollution?
I know this is one of those conversations that people roll their eyes at because it seems so daunting, but the proof is in the pudding. We have tasted the glorious taste of clean air. Why not make it a dish we have from time to time. Even if other countries don't jump on board we can make it to where we take action for our children's future and take an active approach to climate change.
Contact the Feature Writers