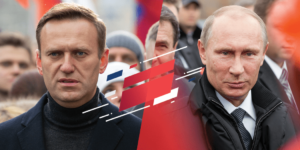 By Nikki Slusher
Just a week before President Biden's meeting with Russian President Vladimir Putin in Switzerland, the Russian leader made a strong statement by banning the opposition party led by Alexsei Navalny. During Pres. Biden's address to US troops at the Royal Air Force base in Mildenhall, England, a Moscow court outlawed the organizations established by Russian opposition leader Alexsei Navalny. The courts labeled the groups as extremist in the latest move by Russian authorities to silence dissidents and ban critics of the Kremlin from running for parliament this September.
The Moscow court's ruling is effective immediately. Its decision will prevent those associated with Navalny's Foundation for Fighting Corruption and his vast network of regional offices throughout Russia from running for public office. Navalny's allies were hoping he would run for a parliamentary seat in the upcoming election.
As for the extremism label, that alone carries lengthy prison sentences for all activists who have collaborated with the organizations, anyone who gave them donations, and even those who only shared the groups' materials in any form. This is just another attempt by the Russian government to destroy the oppositions chances in the upcoming September 19th election through banning organizations and arresting those associated with the opposition movement.
One of Navalny's top associates and organization heads, Ivan Zhdanov, told independent network Dozhd TV "Navalny's team will not stop its activities, they shouldn't hope for that." Zhdanov currently lives abroad.
Navalny is an ardent dissident of Pres. Putin and was arrested in January after returning to Russia from Germany. He had previously spent five months there recovering from a nerve agent poisoning which he claimed was done by the Kremlin. Russian officially vehemently denied the claim. In February, he was sentenced to a 2.5-year prison sentence for an alleged 2014 embezzlement conviction which he claims was also politically motivated.
This story is currently breaking and will be updated as more developments come.

Contact the Feature Writers