SFT 27 Features Two MMA Title Fights On July 15th in Sao Paulo, Brazil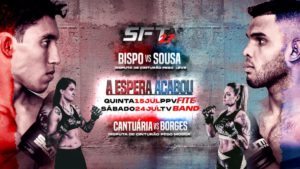 Two exciting title fights highlight a loaded SFT 27 card, the first SFT MMA event held since last December, on Thursday night, July 15th in Sao Paulo, Brazil. Two SFT Xtreme and two Jiu-Jitsu fights are also on tap.
SFT 27 will be held in Sao Paulo and streamed exclusively on FITE in the United States and worldwide on pay per view via the FITE app and website (www.FITE.tv), starting at 6:00 p.m. ET / 3:00 p.m. PT, for only $14.99.
SFT's 2020 Fighter of the Year, Manuel "Maumito" Sousa (6-0-0, SFT: 6-0-0), faces Brendo "The Monster" Bispo (17-4-0, SFT: 1-0-0) in the SFT 27 main event for the vacant SFT Lightweight Championship. A tremendous striker, 23-year-old Sousa is undefeated in combat sports with 23 straight victories in kickboxing, 18 by knockout, and each of his six pro MMA wins have all been in SFT competition, each ending prior to the conclusion of the second round.
Bispo, who is riding a 6-fight win streak, stepped up to fight hot prospect Sousa after a few other fighters passed on the opportunity. Considered one of the top lightweights in Brazil, Bispo trains at the famed Chute Boxeo, under the direction of the famed Charles Oliveira. The more experienced Bispo is a solid all-around fighter with seven victories by knockout to go with five by submission.
SFT is known as a strong supporter of female MMA and Mayra Cantuaria (8-3-1, SFT: 2-0-0) takes on Paty Borges (4-4-0, SFT: 2-2-0) in the co-featured event for the vacant SFT Female Flyweight Championship.
Cantuaria has fought in the traditional Japanese event, Pacrase, and she is rated among the top five in Brazilian National rankings, as well as by MMA Premium and Tapology. Borges has won her last two fights heading into her fight versus Cantuaria.
"We are all thrilled to be back in action after a 6-month layoff due to the pandemic," SFT president David Hudson said. "Our first show back is stacked with great fights and fighters, as well as diversified with MMA, Xtreme and Jiu-Jitsu fights. Our main event between undefeated 'Manumito' against veteran Bispo has all the makings of an early candidate for SFT Fight of the Year. SFT fans love to watch female fights and we have a sensational match-up between Cantuaria and Borges for the vacant SFT flyweight crown. There are other great, entertaining fights on SFT 27 from top to bottom."
Another superlative match-up is Bruno "Beirutel" Tavares (13-5-1, SFT: 1-0-0) against featherweight Thiago "Manchinha" Silva (19-9-0 (SFT: 0-1-0). Other MMA fights include bantamweight Joao "Samurai" Souza (11-5-1, SFT: 2-2-1) vs. Paulo Pizzo (9-2-0), welterweight Luis "Hulk" Fernando (18-6-0) vs. Alex "Canguru" Sandro (10-3-0), featherweight Marcos "Maraja" Rodriguez (16-5-0, SFT: 1-0-0) vs. Estabill Amato (10-4-0, SFT: 1-2-0), bantamweight Deja Moura (5-2-0, SFT: 1-0-0) vs. Manoel Lima "Aranja" Silva (5-4-0, SFT: 1-1-0), flyweight Marciano Ferreira (5-1-0, SFT: 1-0-0) vs. Antonio "Piaui" Rodrigues (9-2-0, SFT: 0-1-0), undefeated bantamweight Fernando "Fernandinho" Henrique (3-0-0, SFT: 1-0-0) vs. Apollo "Deus Da Guerra" Gomes (5-0-0) and pro debuting Luana Santos vs. bantamweight Majorie "Brutal" Barragan (1-0-0).
Two SFT Xtreme fights will also be held as welterweight Cicero Evangelista (SFT Xtreme: 1-0-0) throws down with Kavem "Mexicano" Felipe, while bantamweight Nicholas Pestilli battles Ramon "Sayajin" Costa. The wildly popular, uniquely entertaining SFT Xtreme competition allows striking, kicking and knees, fighters wear 4-ounce gloves, and clinching and fighting on the mat is prohibited.
A pair of Jiu-Jitsu matches will showcase William Cilli vs. Elaias "Xuxu" Silverio, and Henrique "Rasputin" Gomes vs. Felipe "Felipinho" Cusciana.
All fights are subject to change.