Haiti's President Jovenel Moïse Assassinated – World News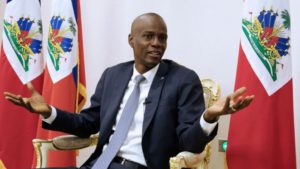 By Janet Grace
Early this morning, the acting president was assassinated in his home. His wife, Martine, was left for dead, but is still alive. Hopefully, she will recover.
Haiti has seen these coups every couple of years but outright assassination is always frightening, saddening and shocking. We experienced our own a few months ago which still rattles our minds. How the heck did that happen, again?
Unlike America where we have videos of every breath taken at any point in time, Haitians; for the most part, are still trying to revive their country from the devastation left by the 2010 Tsunami and 2016's Hurricane's Matthew.
Were you to visit there today, you'd find yourself thrown back into an earlier time in life where indoor plumbing is non existent in over half of the country. Feet, livestock and bicycles are the major means of transportation and electricity, cars, gas and adequate food supply are commodities enjoyed by the wealthy and politically connected.
I understand their frustration. They have barely reached the twentieth century, let alone the twenty-first and everyone they've trusted and believed in, reneged on their promises.
Moïse was seen as an autocrat having promised much and only delivering what worked best for him, similar to TFG, without the blatant corruption, that we are aware of.
Most Haitians, today, earn about two bucks per day. Many have crossed over into the Dominican Republic, to find better working conditions, in a country only two steps ahead of them.
The free nations of the world have condemned this morning's attack, especially Canada, which has spent the most time, money, effort to assist the Haitian Country since 2010.
The Dominican Republic, the neighboring country, closed its borders.
Moïse has been leading by decree for more than two years. The opposition wanted him gone stating that he should have been out since February of this year. At this time, this developing story has yet to put a name to the assassins. The cowards have not identified themselves as of yet.
May there one day be justice and triumph for Haiti, its people and her beauty, Amen.
Prayers sent to the families and all affected.
[si-contact-form form='2′]