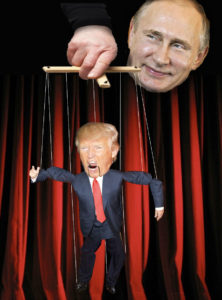 By Nikki Slusher
A secret Russian spy mission has been revealed surrounding Russia's involvement in helping former President Donald Trump get into the White House. Russian President Vladimir Putin personally authorized the secret operation to support a "mentally unstable" Donald Trump during the 2016 election during a "closed session of Russia's national security council" according to Kremlin documents that were leaked.
The meeting, which took place on January 22, 2016, was a key part that involved the Russian president, his top intelligence officers, and senior ministers were all present. During this meeting, they agreed upon having a Trump White House which would help ultimately secure Moscow's objectives, including "social turmoil" within the US and to weaken the US president's negotiating authority.
All of Russia's spy agencies were ordered by the Kremlin to discover practical ways to support then presidential candidate Donald Trump through a decree that appears to reflect Putin's signature. At this point, Trump was the front runner for the Republican party's nominee. Putin's experts recommended that Moscow use "all possible force" in order to ensure Trump would be victorious— and he was.
American intelligence agencies have allegedly been aware of the leaked documents for quite some time, and carefully reviewed them before they were released publicly. According to The Guardian, who carefully reviewed the documents themselves, reveal a serious and highly unusual leak from within the Kremlin's closest peers. Independent experts also reviewed the documents and agreed they appear to be genuine. The incidental details are perceived as "accurate" and the overall tone is said to be consecutive with Kremlin security thinking.
The Kremlin's spokesperson, Dmitri Peskov, responded to the accusations of Russian leaders meeting and agreeing to support Donald Trump's bid for presidency at a meeting in 2016 is "a great pulp fiction." In the report titled "No 34-04/vd" it states that Trump was "the most promising candidate" in the Kremlin's perspective. Also in the report is a psychological assessment of Trump which describes him as "impulsive, mentally unstable and unbalanced individual who suffers from an inferiority complex." Additionally, there is confirmation that the Kremlin had possessed potentially compromising material on Trump, which the document says was obtained from the future president's previous "non-official visits to Russian Federation territory."
The papers also reference "certain events" that occurred during Trump's trips to Moscow. While the documents claim the Moscow Security council members are invited to see the details in appendix five, paragraph five, it is still unknown to the public what is contained in the section.
"It is acutely necessary to use all possible force to facilitate his [Trump's] election to the post of US president," the paper states.
A Trump presidency was seen as Russia's favorites "theoretical political scenario" where a Trump win would "definitely lead to the destabilization of the US's sociopolitical system" and predicts a burst of discontent occur openly.
As nobody is surprised by this claim, if it is found true there may be serious ramifications that the US might take against Russia. This story is breaking and will be updated once more information is available.
Contact the Feature Writers