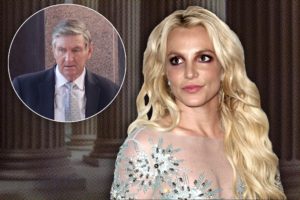 By Janet Grace
Britney Spears has been in the music business since 1997. She was 15 at the time she signed with "Jive" Records. My kids, grew up singing with Britney. Her professional persona had a borderline nice/naughty flair.
Her repertoire consisted of music composed by the Swedish Songwriter, Max Martin, a phenomenal hit-making composer, who has written for many artists besides Britney, from ABBA to Prince. In terms of his talents, he's only second to John Lennon and Paul McCartney.
So, with all the right people in her corner, what could possibly go wrong?
We could ask other children growing up in the public's eyes the same question. All work, no play, tight schedules and no balance for their spirits, minds or bodies, would cause anyone to function less than at full capacity.
The difference between us and them, was that at that time, anything with the word "mental" associated with it brought a negative connotation making it easier to remove the legal rights of those suffering health issues.
Meanwhile, she could not escape the press or her father attorney who claimed her public hair buzz video came about because Britney was attempting to hide her drug use.
What? We know that's crazy. One plucked hair from her eyebrow or lashes would've given those results as well. She was attempting to diminish or destroy her marketability from what was then, a shattered view of herself. They really tried their best to demonize her and succeeded.
By the time she shaved her head and had countless memes portraying her being kicked into a hole in the Comedy "Meet the Spartans", a spoof of the "300" movie, she was ready for a break from her reality.
In 2008, she was hospitalized due to all written above, and her father, Jamie, raced to set up a conservatorship, legally barring her from making any personal or professional choices on her own.
While that may have been welcomed and required at the given time, there are many who recover from health setbacks and continue to live a perfectly productive life. Not so in Britney's case.
Thirteen years later, Britney is 39 years old, all grown up and feeling fine. Her two teenaged sons, Sean and Jayden,15 and 14 years old, are also doing very well, but Mama Britney is still being monitored and labeled as a "forever basket case" by her father and his henchmen and still unable to care for her own personal and business affairs.
That was — until this past Wednesday when the court ruled that Britney can now choose her own lawyer, as opposed to the court appointed flunky who fled the scene as soon as Britney cried: "fucking cruelty".
This case is no different than those who's lives have been altered by kidnapping and human trafficking. She was basically treated as her family's meal ticket. How sad is that? Macaulay Culkin has much to say, I'm sure.
His story was similar in that he also fought for his rights and successfully divorced his parents.
On Wednesday, Judge Brenda Penny, allowed Britney to choose the Heavy-Hitting attorney, Mathew Rosengart, to represent her as of now.
The Counselor isn't wasting any time either. He's already asked Daddy Spears to resign effective immediately or he'll be the one being tossed down the Spartan hole, charging him with "conservatorship abuse". He stated that his firm "will be moving promptly and aggressively for his (Jamie Spears) removal".
I'm following this case closely and obviously rooting for Britney. She deserves a break no matter how many times she "oops, did it again."
Brightest regards to all. You're the best.
Peace/Out.
JG )O(
Contact the Feature Writers