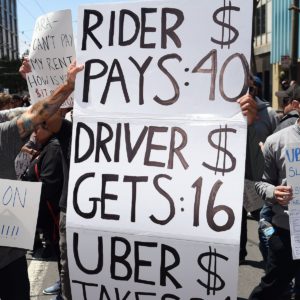 By Janet Grace
Back in the 90s, I lived in Staten Island's Ward Hill, the highest lands with gorgeous homes and the best views of Manhattan, Brooklyn and Staten Island.
Those of us that lived there, regularly sprinted off the Staten Island Ferries as fast as we sprinted on. Catching "The Boat" was the Sprint Seen Round The World, as many Lower Manhattan, Battery Park and Wall Street Workers knew the exact times to leave their jobs, and how fast to run, to catch the 505, 525, etc.
After the twenty minute boat ride, we'd race to fill the private ride share vans who drove us to our exact destinations for one dollar each way. Flagging one in the mornings just took a wave from the street for them to "stop, drop n roll" at ones command..
Fast forward the 30-Something years it's been, and stop at today, when "Ride Share Drivers United" Organizers arranged a strike taking place at LAX's Ride Share Platform as well as in San Francisco, San Diego and Los Angeles.
The "Silent Strike" is what the shortage of drivers and gig workers who state the using Ride Share driver apps are no longer as safe or as lucrative as they once were, is being called. The hazards of potentially becoming sick during the pandemic by picking up sick passengers outweighs the benefits of driving for these companies.
With so many You Tube videos showing the assaults, attacks and hazards brought about by unruly civilians, the potential costs outweigh any benefits associated with these apps.
As originally reported by The Los Angeles Time's reporter, Michael Hitzig: "The PRO (short for Protecting the Right to Organize) Act passed the U.S. House this year and has been endorsed by President Biden. The act would expand protections for workers seeking to unionize, ban some tactics used by employers to dissuade union organizing activities, overturn the Taft-Hartley Act, and overturn so-called right-to-work laws in 28 states, among other things." Hitzig says the PRO Act: "would be the most important law protecting worker rights since the original National Labor Relations Act of 1935."
NPR quotes, "Union leaders say the Protecting the Right to Organize Act — PRO Act — would finally begin to level a playing field they say is unfairly tilted toward big business and management, making union organizing drives and elections unreasonably difficult.
The strike lasted for 24 hours. It began at midnight July 21st and ended at midnight on July 22nd. There is a rally and demonstration scheduled for 1300hrs lasting until 1600hrs. Picketing drivers will march to LAX's Ride Share Plaza to picket.
If you need to get somewhere in these cities today, it's best to call a cab, get a ride from a friend, drive yourself or take mass transit.
I was ubering before the pandemic was an issue and used to earn anywhere from $15 an hour to $500 in six hours, with most of that belonging to no one else but myself and my shopping spree whims. It was nice while it lasted. I encountered none of the issues associated with today's strike. It was a lucrative gig which allowed me to keep the fun in my budget spending by feeding my "wish.com" habit. I wish these organizers and striking drivers all the success in arriving at the best working conditions for all, with Grace and in the most Perfect Ways.
That's it for now, my Beloved Tweeps..
Take it easy, and have a magickal [1] day.
[1]. Using a "K" in the word "Magick" differentiates Divine Workings, prayers, from stage magic. They both end in "Ta-Da". Jus' Sayin'.
Peace/Out
JG )O(

Contact the Feature Writers