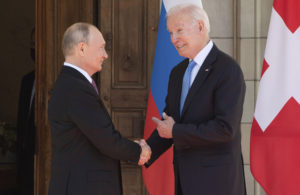 By Donald "Braveheart" Stewart
As I sit in my Kailyard I wonder often about the future.
I have recently put down a book on Dictators with the chapter on Stalin having just been finished. I never knew a year in which he was in power.
I have however lived through the years of Pol Pot, Franco, Ceausescu, Hoxha, Papa Doc, apartheid and the Greek generals.
Having seen the scenes in Haiti over the past week or so, the idea of dictatorship by uprising and removing the democratic wishes of your own people seems to be back in vogue for some.
Not for me.
I also once, brought back Russian Dolls from Estonia for my daughter which had all the Russian leaders from Lenin to Yeltsin and taught her their names. She was not wholly impressed, though I was.
Last month, in the cool heat of June, we had the summit between Vladimir Putin and Joe Biden. The world watched and waited. We learned a lot and from my perspective of being a simple Scot with a history of watching the world from his laptop, things were settled and good to witness.
Firstly, it was good to hear sense from an American President. I have written before about how the world just sat and wondered what the madness was that had gripped the American people when they foisted the Mango Mussolini upon us. Now we see it was a temporary blip.
It is, however, up to you to keep it a temporary blip.
Even in the face of a man, Putin, who still sees America as the great enemy, Joe Biden kept his cool. There were no tantrums and no doubt over his focus being – put the world back and keep moving forward with democracy, equality and fairness. Democracy is at the heart of all that and with changes in Russia looking to challenge the ideals rather than the institution it MUST have been comforting for the American people to know a man of steel was there rather than somebody who could not remember what happened when he met another world leader…
Of course, any summit needs a result, otherwise what was the point? There were minor achievements as the situations around American and Russian ambassadors were resolved and the beginning of a more respectful series of negotiations being taken out of a posturing press room and onto a firm table seems to have been commenced.
For the first summit between the two, Biden was not expected to crack some of the more serious issues of American nationals held on trumped up (pardon the pun) charges or the situation in Ukraine but the changes required for these require less posturing and more talking. The ground rules are set. It needs both sides to be serious about things and if one is not, then the other side needs to have leverage to call them out privately. Trump was unable to spell those ideals, Biden is clearly a past master at them.
That will be important as Putin has only one equal in slipperiness, and he got dumped out the White House in January.
It leaves us optimistic about the future. But optimism is a beginning. For there to be real change there will need to be some progress. The world needs to have some changes to conflicts in Hong Kong, Ukraine, Myanmar and various other hot spots throughout the world. The solutions to these as had been seen in Iraq and Afghanistan needs much more than military muscle. Otherwise, the names I mentioned at the beginning of this shall provide us with legacies we can see afresh. Avoiding that result needs a plan. You seem to have a guy who can formulate one. Makes a change. A welcome one.
A view from the new Kailyard or, how you look over there, from over here…
(kailyard n. a genre of sentimental Scottish literature turned into effective invective comment from one Donald worth reading…)
Contact the Feature Writers