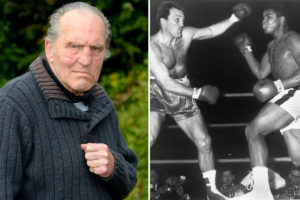 By Donald "Braveheart" Stewart
The recent death of "The Blackpool Rock", Brian London, 37-20-1, 26 KO's, brought back memories of a golden era of British boxing and the heavyweight times of the likes of Henry Cooper, Floyd Patterson, Joe Bugner and Muhammad Ali. London fought all of these contemporaries as well as straddling one era of British boxing into the next. London fought no fewer than 4 world champions and then the great new British hope at the beginning of the seventies. At each turn he did so with great humor and distinction though honors were never to be his at the highest level, he came away with much esteem. He turned that esteem to profit, as he followed the words of Polonius in Hamlet to "…neither a borrower nor a lender be…" The outpouring of grief at his loss was not just testimony to his boxing skill but also to the nature of one of the good guys.
Born in 1934, 5 years before the onset of World War Two, as Brian Sydney Harper, he had a 15-year career which spanned from 1955 to 1970. He managed to hold both the British and Commonwealth titles during his time and challenge not once but twice for the world heavyweight championship; he lost on both occasions.
His upbringing was within a boxing family as his father, Jack, had been a British and Commonwealth heavyweight champion himself and his brother was a light heavyweight – he was to take his father's last name – London – in the ring when he made it into the square circle. It was this background which led to an officer in the RAF suggest he take up the noble art whilst he was in the ranks. And so, he did, managing to prove himself as an amateur before turning professional in 1955. He claimed to have fought 87 times as an amateur, losing only 2 contests. Whilst his connection to his father may have prompted the RAF making him pursue boxing, the attraction of better privileges and not having such a hard time in the ranks would have sealed his fate and made it that much more attractive.
Making his debut on the 22nd of March 1955 against Dennis Lockton at Earls' Court, London it took a year before he suffered his first defeat. Now remember that in those days you did not start with one or two fights in the first six months but were pitched into a hectic beginning which didn't pad your record – you earned it. 13 months, 12 fights, 12 wins and an average of 1 fight per month!
But his first loss was brutal – a first round stoppage to Henry Cooper on the 1st of May 1956 again at Earls Court.
Recovering from that loss, saw him go on another successful extended run before taking on Joe Erskine, for both the British and Commonwealth titles. At the White City Stadium in London, on the 3rd of June, 1958, the fight ended with a knockout in the 8th round. This time it was London who came out the fight triumphant. He was the British and Commonwealth heavyweight champion like his dad had been!
On the 12th of January 1959, he was to face Henry Cooper for a second time, this time defending his belts. London lasted the distance this time, but the result was the same – he lost – and again at Earls Court.
Bizarrely that loss led to his first world title challenge.
On the 1st of May 1959, ironically 3 years to the day after his first fight with Cooper, he traveled across to Indianapolis to face legendary ring giant, Floyd Paterson for the world heavyweight title. The world honor was not to be though London lasted until the 11th but could not get to hear the final bell and lost by being stopped in that 11th round. It was a fight that was not sanctioned by the British Boxing Board of Control and whilst being far from a rebel, London was unrepentant. It was his highest purse to date and was more than he had earned in the previous four years as a professional boxer. The die was clearly cast as to his reasons for fighting, though he was to serve a suspension as punishment.
For the rest of his career further titles and belts were not to be his though, he became a perennial challenger. He went in against Dick Richardson on the 29th of August 1960 for the European belt but was retired in the 8th round, in the Welsh town of Porthcawl, due to severe cuts. It was a fight mired in controversy as London's boxing father and brother were incensed at the tactics used by Richardson to win the fight which included, according to them a head to open the cut on London. The fight started a fight as both brother and father joined Brian in the ring and began their protest in a customary fashion for a boxing family… including London managing to send to the canvas Richardson's trainer! For the second time censure came from the Board of Control, this time London got fined for the Brawl at Porthcawl!
Impressive names continued to pop up on his resume as he went in against Ingemar Johansson on the 21st of April of 1963, in Stockholm, losing over 12 rounds. Johansson was left slumped over the ropes at the end of the fight meaning that London was within a whisker of enjoying a win that would have been the biggest of his career, against a former world champion – Johansson retired straight afterwards!
Then came the trilogy fight with a trio of title attached – Henry Cooper, on the 24th of February 1964, for the British, Commonwealth and European titles. In Manchester, Cooper and London went the 15 rounds but for the third time, London was to lose, though he hotly disputed the result. For the 2nd time, after fighting Cooper, London was to find himself in a world title fight.
Earl's Court London, 6th of August 1966. 7 years after his first world title fight, the WBC title was on the line.
It was a seminal moment for London. He was clearly outmatched and utterly outclassed as he was stopped in only the 3rd round, after Ali unleashed 12 punches in a combination for which London had no answer. Some spoke of how he never really tried – he didn't argue! It was a fight that epitomized London's career as he was someone for whom the noble art was a means to an end. He was in it for the money. He fought for the purse and not for the glory. Once he had matched his dear old dad, it could be argued that his job had been done. Don't get me wrong, Brian London could fight, but his glory days were all concerned with getting himself fit, healthy and out the ring in a shape where he could invest and make a future for his family; boy did he do that.
In an interview after the fight, he was candid and incredibly honest when he compared himself to the man in the opposite corner, Ali was, he said, "Big, fast and he could punch, whereas I was smaller, fatter and couldn't punch. He stopped me in three rounds and that was it, I don't think I hit him. It was good money and I got well paid for it – that's all I fought for. Every fight I ever had I always had a go, but with Muhammad Ali I thought "don't get hurt Brian", and I therefore didn't try, which was wrong, totally wrong."
Much later he was asked if he would have done anything different, to which he quipped, "I would have taken a gun into the ring and shot him. That was the only way I was going to beat him that night." It is easy to see why he became a popular after dinner speaker!
From the Ali fight he got a Jerry Quarry fight when he went to Los Angeles, on the 9th of March 1967 and lost a 10 round decision, in front of 10,000 fans before entering the last few years of his career from 1968 until his retirement in 1970, which included a rematch with Quarry six months after his fight in Los Angeles. The result never changed just the means of losing as he was knocked out in the 2nd round in Oakland.
He was to enter the ring in that final fight against an up and coming Joe Bugner and London got to the 5th round before being stopped in Wembley on the 12th of May 1970. It was to end his professional career.
Retirement was good to London but only because he was investing in its arrival whilst fighting. He was a highly successful businessman, teetotal his whole life and constantly fit. Whilst his zest for the boxing game was always in doubt, his zest for life was never doubted. Perhaps the epitome of his contribution to the sport came in a 1962 fight in his adopted hometown of Blackpool. In against Howard King, he fought outside in Stanley Park in a downpour of rain so bad that the referee wore a raincoat and both fighters were in their bare feet. London won by knockout. As in life, no matter what was poured onto his head, scorn, doubt, criticism, London rose above it and provided the knockout punch for those that mattered in the town that mattered – home.
He lived until at 84 years of age, he departed after a long illness. What he left behind may have been the legacy of how not to beat Ali in a ring but how to beat the pugilistic hangover of being left with bad memories, deep regrets and an inability to plan a future with his money. For that there should always be a place in a Hall of Fame somewhere.
Contact the Feature Writers