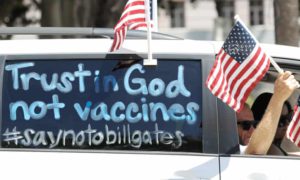 By Bethany "BST2" Armstrong
You can't argue with an anti-vaxxer. Period. Science and statistics mean nothing when they're getting misinformation fed to them regularly. In fact, a 2015 study showed that giving anti-vaxxers data directly from the CDC changed their opinion as often as being read a statement about feeding birds (the control group) which was no change whatsoever. The one thing that did change minds was showing graphic images of illnesses and deaths that could have been prevented by a vaccination. Focusing on why vaccines are crucial rather than how vaccines are safe had a much more significant impact.
This doesn't appear to be working in the case of covid-19 vaccines. The ridiculous amount of misinformation on social media and the "news" has insured they only trust sources that reinforce their beliefs. So, the next best way to change the rate of vaccinations is money.
I'm not talking about paying these fuckwits…. I'm talking about an individual mandate penalty ala Obamacare. I'm talking about a ding on your taxes for every month you and your eligible family members (I.e., children over 12) do not take the vaccine.
I'd also like to suggest a lottery for those who are already vaccinated called "Slap a Republican who Lied about Covid." I know it's not realistic but the idea of Mitch feeling the back of my hand across his deflated rubber sex-doll face gives me tingles in my no-no zone.
Contact the Feature Writers