Florida Man Remains In Coma After Asking Neighbors to Lower Their Music Leads To Savage Beating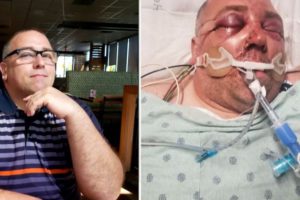 By Ty Ross
At around 2:30am on June 14th, 42 year old Frank Penkava went to his neighbor's home to ask they lower their music. This lead to a beating that can only be described as brutal, and savage.
Penkava was beaten so severely that his family was only able to identify him by his tattoos. While Penkava was able to call 911 after the assault, where he identified and pointed out his neighbors as the assailants, once arriving at the hospital he was put into a medically induced coma. Where he still remains. There have been reports of a second 911 call, but police have not been forthcoming with any more information on that.
Suffering multiple facial fractures, and broken bones, doctors have been reluctant to perform the lifesaving surgery that Penkava needs due to the extent of his injuries. After five attempts to perform the surgery over the past month, his doctors have concluded that Penkava just isn't stable enough. They are currently monitoring his brain activity to check for any permanent or lasting brain damage that the beating may have caused.
Penkava's sister and mother are still looking for answers as to why his attackers are still roaming free.
Frank Penkava is the father of a 3 year old, and after 6 weeks in a coma the probability of him recovering from his injuries is still unknown.
*Developing Story*
Check out Ty's book THE POWER OF PERSPECTIVE. It's a collection of affirmations she wrote to get her through a difficult time in her life. Words of wisdom that apply to anyone, and everyone, to get through the hard times. If you're questioning yourself, and need a reminder that you are in control… Click HERE to order your copy.
[si-contact-form form='2′]