SFT 28: "Mexicano Vs Matsumoto" – Official Results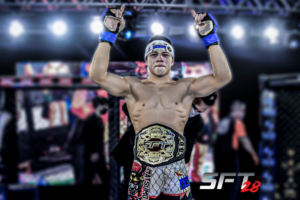 Mixed-martial-arts history was made this past Thursday night in Sao Paulo, Brazil, in the "SFT 28: CLASH OF CHAMPIONS – Mexicano vs. Matsumoto" main event, when reigning SFT MMA flyweight titlist Jean Marsumoto (pictured above) defeated defending SFT MMA Bantamweight Champion Wanderlay "Mexicano" Junior to become the first SFT MMA champion in two different divisions.
SFT 28 was streamed exclusively on FITE in the United States and worldwide on pay per view via the FITE app and website (www.FITE.tv).
Matsumoto (9-0-0), who captured the SFT MMA flyweight strap at SFT 18 with a unanimous decision over Andre Azevedo, kept his professional MMA record intact by winning a 5-round unanimous decision against Junior (10-4-0) in the latter's first title defense of the crown he captured at SFT 20 (Jan. 25, 2020) by way of a unanimous decision over Humberto Rangel, Jr.
main event action.jpg
New 2-division SFT MMA champion Jean Matsumoto on top
In the co-featured event, Ketlen "Esquentadinha" Souza (11-3-0) had a memorable SFT debut, albeit as relatively late replacement, as she won a hard fought 5-round unanimous decision over Gisele "GI" Moreira (9-5-0) to become the first SFT MMA Female Bantamweight Champion.
cofeature action.jpg
Ketlem Souza kicked her way to the SFT MMA female bantamweight title
Former UFC heavyweight Wagner Silva (10-8-0) won a rematch by split decision against Douglas Rakchal (12-7-0), while Aleandro "Muca" Caetano (22-6-1) knocked out Joao "Alicate" Elias (14-3-1) with a knee kick in round one of their fight that was contested at a 130-pound catchweight.
Pro-debuting welterweight Matheus Rocha (1-0-0), who was 3-0-0 as a promising amateur, stopped Julio Spadaccini (4-2-0) on punches in the second round. Welterweight Eduardo "Blade" Rufino (10-4-0) and female strawweight Denise Gomes (3-1-0) won unanimous decisions, respectively, versus Moacir Rocha (10-5-1) and Andressa Gauchinbha (3-0-1).
One Championship welterweight Carlos "Carlao" Prates (83-10, 43 KOs in Muai Thai) took a unanimous decision from South American kickboxing champion Vinicius Dionzio (40-8 kickboxing) In one of three Xtreme matches on the card.
Lightweight Carlinhos Morais defeated Fernando Williams and female strawweight Nagilla "Goku" Bruno punched out Simone Batista in the opening round on punches in the two other Xtreme fights.
SFT Xtreme matches allow striking, kicking and knees, fighters wear 4-ounce gloves, and clinching and fighting on the mat is prohibited.
Welterweight Everton Ungido won an SFT Jiu-Jitsu match against Wellington "Prado" Prado on points, 14-0, and Adson Araujo registered a second-round knockout of Gabriel Azevedo on punches in a SFT Karate match.
Complete results below:
_____________________________________________________________________
SFT 28
MAIN EVENT – SFT MMA BANTAMWEIGHT CHAMPIONSHIP
Jean Matsumoto (9-0-0, SFT: 4-0-0), Brazil
WDEC5
Wanderlay Junior (10-4-0, SFT: 3-2-0), Brazil
(Matsumuto SFT MMA bantamweight title)
CO-FEATURE – VACANT SFT MMA FEMALE BANTAMWEIGHT CHAMPIONSHIP
Ketlen Souza (10-3-0, SFT: 0-0-0), Brazil
WDEC5
Gisele Moreira (9-4-0, SFT: 1-0-0), Brazil
(Souza won SFT Female bantamweight title)
SFT MMA
HEAVYWEIGHTS
Wagner Silva (10-8-0, SFT: 2-1-0), Brazil
WDEC3
Douglas Rakchal (12-7-0, SFT: 0-2-0), 205
WELTERWEIGHTS
Eduardo Rufino (10-4-0, SFT: 1-0-0), Brazil
WDEC3
Moacir Rocha (10-5-1, SFT: 2-2-0), Brazil
Matheus Rocha (1-0-0, SFT: 1-0-0), Brazil
WTKO2 (Punches – 3:24)
Julio Spadaccini (4-2-0, SFT: 0-2-0), Brazil
130-POUNDS CATCHWEIGHT
Aleandro Caetano (22-6-1, SFT: 1-0-0), Brazil
WKO1 (knee – 4:35)
Joao Elias (14-3-1, SFT: 1-1-0), Brazil
FEMALE STRAWWEIGHTS
Denise Gomes (2-2-0, SFT: 0-1-0), Brazil
WDEC3
Andressa Gauchinbha (3-1-1, SFT: 0-1-0), Brazil
SFT XTREME
WELTERWEIGHTS
Carlos Prates, Brazil
WDEC3
Vinicius Dionzio, Brazil
LIGHTWEIGHTS
Carlinhos Morais, Brazil
W
Fernando William, Brazil
FEMALE STRAWWEIGHTS
Nagilla Bruno, Brazil
WKO1 (punches – 1:24)
Simone Batista, Brazil
SFT JIU-JITSU
WELTERWEIGHTS
Everton Ungido, Brazil
WPTS (14-0)
Wellington Prado, Brazil
SFT KARATE
Adson Araujo, Brazil
WTKO2 (.punches)
Gabriel Azevedo, Brazil