Ringside Report Takes a Closer Look at Boxer Tyrone McCullagh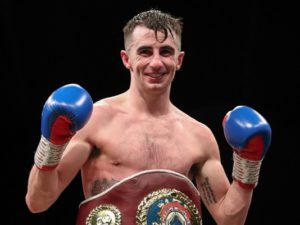 By Donald "Braveheart" Stewart
A man of principal with a quick wit and steely political point of view. That is Derry's southpaw, Tyrone McCullagh, 14-2, 6 KO's. A bronze medalist at the 2010 European Championships in Moscow, McCullagh represents an atypical boxer of his generation from the city he would say is captured in the British state, but which ought to be free in the Irish one.
Our other two notable products of the province – Barry McGuigan and Carl Frampton, share an appeal which transcends the two communities which sit cheek by jowl in the communities of Northern Ireland. McCullagh has no less a pugilistic appeal, however he has nailed his colors, green, white and gold, to his own mast.
He is a nationalist, a proud Irish nationalist.
It didn't stop him from entering the Commonwealth Games in the self-same year he won the European Championships, representing Northern Ireland and getting to the quarter finals. His political beliefs, however, shall not, ever see him fight for the British title – even though he qualifies.
Britain is quite simply, not his country.
McCullagh is not yet, a full-time fully paid boxer, and he was employed in the health service as a mental health nurse and combines that commitment with his training. Such dedication has paid off at such times as taking bronze at the Europeans as an amateur in 2010, the Irish title in the same year and being part of the Kazakh team for the World Series of Boxing – the Astana Arlans.
It was politics which turned him professional, not the type of personal nationalism he espouses but the overtly political nature of the amateur game. His entry into the paid ranks came on the 25th of July 2015 when he knocked out Tamas Laska in Ellesmere Port in the 2nd round.
McCullagh then went on a successful run before taking the decision after 10 wins to drop down to super bantamweight and then found himself matched against another former Commonwealth Games competitor, Scotland's Joe Ham, for the Celtic title. Fought between the Celtic nations of Scotland, Ireland and Wales, the title gave him his first belt after coming back from a 3rd round knockdown in Belfast to dominate an undefeated Ham on the 30th of June 2018 and win comfortably on points.
He was now getting some recognition.
Next up was the English champion, Josh Kennedy in October 2018 in Belfast, and he beat Kennedy on points for the WBO European title and then defended it against the Spaniard, Alvaro Rodriguez in Newcastle on the 3rd of May 2019.
A move back up in weight came with entering a knockout contest, the MGM Golden Contract. Competing at featherweight with the winner of the whole contest guaranteed a wage and future big fights, it was too seductive to ignore. The Golden Contract competition was a great idea and McCullagh was perfect for it. Three fights were between him and the contract. All he needed to do was to win his quarter final, semi-final and then final over about 18 months. What made it exciting was that the draw for who you would fight happened in fight week, so you trained, like in the amateurs, not always knowing who your opponent would be. To make it more TV friendly fighters were seeded as the favorites got to choose their opponents.
McCullagh navigated the quarter final against Razaq Najib successfully at the York Hall on the 4th of October 2019. Then he came unstuck when he was in against Ryan Walsh in the semifinal on the 21st of February 2020, back at York Hall. On that night, people believed that he had quit. McCullagh worried that he would be seen as a quitter. In an interview in the Belfast Telegraph afterwards he admitted "It was very difficult, and it couldn't have come at a worse time. The worst thing was I knew how it looked." It looked like a wide points win simply because that is exactly what it was ; Walsh was well ahead throughout.
Given that after the fight, the British Boxing Board of Control found an issue with a brain scan and McCullagh was waiting to hear if he would ever fight again, such a concern is both remarkable and a mark of how proud some fighters are. It is easy to see why some need to be protected against their greatest enemy – themselves.
He was cleared and got his shot at redemption. His original opponent, undefeated Jacob Robinson of Wales, had to pull out the fight due to injury, leaving McCullagh with a gap for his comeback in Bolton on the 25th of June 2021. He filled it with Brett Fidoe, a long standing journeyman who was to provide a tough test; unfortunately, it was one which he failed.
Talking to Irish-boxing.com after the loss, his second in a row he was to remember words of wisdom he got from fellow professional sportsman, Shane Duffy, an international soccer player from the same city of Derry, who he bumped into after the fight with Fidoe. "He told me he'd been through the worst year of his life both on and off the pitch but came out the other end. So why can't I? We are Derry men, hold the head up high. I know I can't fall into that again, look it's the sport I'm in, I have to take it on the chin (excuse the pun) I am devastated but life goes on."
What made it doubly difficult was that he was stopped in the 3rd round after having been dropped. He spoke again of this with irish-boxing.com, "I got caught, I was hurt like, although I thought it was waved it off early. My head was clear when the ref was counting. I was just thinking to myself "see the round out" but I wasn't afforded the opportunity. At the end of the day, he's the ref, it's his call and that's no excuse. I should never have been in that position in the first place."
Indeed, he should not have been but there are no failures only opportunities to learn. The next phase for McCullagh is going to be one that may be a tougher test but you get the feeling this is a boxer who ahs the tools to carve yet another opening for his career and get the Derring Dos not the Derring Don'ts from the ultimate Derry Man!
[si-contact-form form='2′]