"Randy's Ringside On Ringside Report: Here's the Score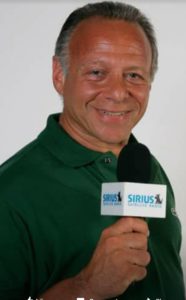 By Randy "The Commish" Gordon
In my decades in boxing, I have seen some pretty awful decisions rendered. Some I've seen from ringside. Others I've watched on television. I'm not talking about close decisions in competitive fights. I'm talking about awful decisions, ones which reek of either incompetence or worse, dishonesty. I've seen both. Several times!
I was ringside in Philadelphia's Spectrum on November 30, 1976, when undefeated challenger Tyrone Everett faced WBC Jr. Lightweight Champion Alfredo Escalera.
Escalera had been the champion for 16 months, but had made six successful defenses in that time.
Everett was the slick, speedy southpaw from Philly, unbeaten in 34 fights. He was Pernell Whitaker before the boxing world was ever gifted by "Sweet Pea."
In his 34 victories, Everett had s18 knockouts. His decision victories were mostly one-sided. In many of them, he didn't just win nearly every round of every fight. He won virtually every second of every round.
For Everett's fight against Escalera, future Hall-of-Famer J. Russell Peltz was the promoter.
For the Escalera-Everett fight, I sat next to Harold Lederman, then an up-coming judge from New York. We had taken the Amtrak from New York City to Philadelphia. Riding with us on the train was Malcolm "Flash" Gordon, the controversial, rebellious and outrageous publisher of "Tonight's Boxing Program," the weekly underground newsletter which was a must read for boxing fans and a double-must-read for boxing insiders.
"Tonight is Everett's night," said Flash on the ride down. "Nobody can deal with Everett's southpaw style and speed. Escalera won't be able to deal with it, either. Everett will win a decision—an easy decision!"
Flash was right. The 15 rounds flew by. After five, I had it a shutout for Everett. After 10, I already had Everett winning the title. In the 13th round, a clash of heads left Everett with a nasty gash on his upper forehead. It was a gash which bled profusely. However, it didn't affect Everett's speed, timing and ability to control Escalera. At the final bell, I turned to Harold Lederman and said, "We've got a new champion."
He asked, "How'd you score it?"
"I had it 12-3 in rounds (147-138) How'd you see it, Harold?"
"Almost the same, 146-139 (11-4)," he said.
A quick check with nearby reporters was the same: A wide, decisive victory for Everett. Then came the decision.
Scoring referee Ray Solis of Mexico had it 148-146 for Everett (which, when taken round-by-round, translated to four rounds for Everett, two for Escalera and a ludicrous NINE rounds even!).
"Too close," I thought. "Everett won it much wider than that."
Then came the other two scores. Judge Wiso Fernandez of Puerto Rico had it 146-143 and American judge Lou Tress had it 145-143—both for Escalera.
"WHAT! ARE YOU KIDDING!!??" is what Harold Lederman yelled. I was stunned. The crowd booed. I looked over at Flash Gordon. He had his hands to his head.
On the train ride back to New York City, Flash, Harold and I sounded like a broken record. We kept repeating, "That was the worst decision I have ever seen. That decision was horrible. That decision had to have been fixed." As it turned out, it was fixed.
Judge Lou Tress, of Philadelphia, was out of the arena before the decision was announced.
The Spectrum's President of boxing and Everett's promoter, future Hall-of-Famer J. Russell Peltz, was irate, swearing to make sure Tress never officiated one of his fights again. Peltz didn't have to stick to his promise, as Tress walked away from the sport after his alltime classic scoring fiasco.
Upon further examination of Tress' scorecard, we see it was more than just a 145-143 score for Escalera. In rounds, Tress had given seven to Escalera, five to Everett, and called three even.
As for Fernandez (whose 146-143 card translated to 7-4-4 for Escalera), he returned to Puerto Rico a hero, and went on to judge many other major title fights until his retirement in1996.
Most controversial decisions occur in close, competitive fights, where more rounds than not are easier for a judge to call even than for him/her to choose a winner. As most commissioners and commissions frown on even rounds, judges often struggle to find a winner in a round which has been 180 seconds of a two-sided contest. As judges have less than one minute to mark their scorecard, they obsess—and sometimes stress—over who they should give the round to. In those closest of rounds, you can watch a judge internally struggling over who to give a "10" to and who should get the "9." In those kinds of rounds, you'll often see two judges leaning one way, while the third judge leans the other way. In a fight with many of those kind of rounds, you will have a disparity in scoring. After watching one of those fights, expect a Split Decision or Majority Decision.
In Everett-Escalera, there were few such rounds. Everett, in a magnificent display of boxing artistry, made the scoring easy. This wasn't a Split Decision win for Escalera. It was a Unanimous Decision win for Everett. All of the judges saw that. However, only one called it for Everett.
One headed back to Puerto Rico. The other headed into the darkness of the Philadelphia night, never to judge again. About him, Philadelphia mobster "Blinky" Palermo said, when asked about Tress' boxing morality, replied, "He can be bought for a cup of coffee."
Following the fight, Tress took his cup of coffee and went home.
No, Alfredo Escalera did not beat Tyrone Everett that night. In his post-fight comments he said he did, but he knows the score. He knows he didn't beat Everett.
Nor did Gabriel Maestre beat Mykal Fox.
He didn't beat him by Ms. Rizzo's absurd 117-110 score and he didn't beat him by the other two scores, 114-113 (David Singh) and 115-113 (John Mariano), either. Everybody—outside of the fight's three judges—knew who really won, or, at least, deserved to win.
Why do these kind of decisions happen all too frequently? I'll tell you why. It's not for the two reasons you think:
1. Incompetence
2. Corruption/Dishonesty
There are two other reasons. Two very real reasons:
1. Weak U.S. commissions
2. Sanctioning body favoritism
Here's how it works. A state commission is informed by the promoter that he'd like to bring a title fight to the state. The paperwork is done. The licensing is completed. The medicals and pre-fight testing is done. The site logistics are worked out. Then comes the assignment of the fight's four officials (the referee and the three judges).
A sanctioning body will try to make the assignment of all four officials. A weak commission, run by bureaucrats and political appointees who know very little to nothing about boxing, will cave in to the request of the sanctioning bodies.The officials requested are dues-paying members of that sanctioning body and regular attendees at their yearly seminars. They will be officials the sanctioning body wants to pat on their collective backs for their dues-paying, seminar attendance and loyalty, by giving them a plum assignment. These plum assignments mean everything from higher pay to all-expense paid travel outside of their home state or country. On many occasions, an official will be met at his/her hotel, who will wine and dine them…tell them a story or three about how important this fight is to both the promoter and the terrific fighter they represent. The official will be told how highly they are regarded, that's the reason they have been brough in for the fight. The official may also be showered with expensive gift cards and perhaps an envelope filled with cash. Of course, there is a promise of "there will be more of this for you if things go our way." Many officials turn down the gifts and tune out the promises. Many accept. They feel they've earned the accolades and rewards.
Gasp if you must. Disbelieve if you'd like. But it happens. It happened in the Tyrone Everett-Alfredo Escalera fight. It's happened countless other times, as well. The Mykal Fox-Gabriel Maestre fight was just the latest incident in a rash of awful decisions, brought on by the inefficiency of the local commission.
A weak commission will approve the request of the sanctioning body without asking questions. A strong commission will stand up to the sanctioning body. At first, the sanctioning body will complain bitterly. They may even threaten to pull the sanction.
However, pulling the sanction means losing the sanctioning fee, which could be tens—or hundreds of thousands of dollars. No sanctioning body wants to lose money, especially that kind of money. So, they try to make a deal with the commission.
They'll say, "You choose the referee. We'll choose the judges."
When I was confronted with this situation in my days as Chairman of the New York State Athletic Commission, I would tell the sanctioning body, "I will choose two of the officials. I will approve the other two.
The two I would choose were the referee and one judge. The sanctioning body would then begin throwing names of two other judges at me. Unless I was totally comfortable with the names, I would reject them. I kept rejecting names until he names of two judges were put before me which I approved. I knew better than to accept officials who were attached at the hip of a sanctioning body. If I did accept one—or more—of them, it's because they were licensed New York officials who also resided in New York. They knew that any scoring favoritism towards the sanctioning body "homeboy" would result in swift and severe disciplinary action against them. Nobody ever tested me!
Let's see what happens with judge John Mariano, who scored the fight wrong in his own state. The other two judges, Gloria Martinez Rizzo and David Singh, returned to Florida and Panama, respectively. It is doubtful any disciplinary any will befall either of them, outside of a short, meaningless suspension by the WBA.
With pressure mounting on them to take action, the WBA has announced they are "investigating" the judges and their scorecards. They have declared the interim title "won" by Maestre to be vacant. And they have ordered a rematch. They have also announced the indefinite suspension of Ms. Rizzo. An indefinite suspension could be permanent, a lifetime ban. After a ludicrous, non-sensical scorecard which was turned in by Ms. Rizzo, the suspension should be permanent. An indefinite suspension may also be a few months, long enough to allow the boxing public to forget Ms. Rizzo's awful card.
We'll stay all over this.
We won't forget.
It's time these awful scoring travesties came to an end.
Randy "The Commish" Gordon is the Author of the hit book, "Glove Affair". Order your copy by clicking HERE.
[si-contact-form form='2′]