Rolling Stones Legendary Drummer Charlie Watts Dead at 80 – Entertainment News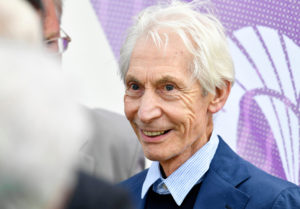 By Geoffrey Huchel
Tributes have been pouring in after news broke of the passing of Rolling Stones drummer Charlie Watts. Watts died August 24, 2021, in London, England. No cause of death has been disclosed. He was 80.
Watts started playing drums in rhythm and blues clubs in his native England, where he met Brian Jones, Mick Jagger and Keith Richards. He joined their group The Rolling Stones in 1963 and remained with the group up until his death. The Rolling Stones have released 30 studio albums, 29 compilation albums and 121 singles, including "Gimme Shelter", "Brown Sugar", "Start Me Up", "(I Can't Get No) Satisfaction", "Angie", "Time is on My Side", "Wild Horses", "Jumpin' Jack Flash", "Ruby Tuesday", and "Paint it Black".
In 1989 The Rolling Stones were inducted into the Rock and Roll Hall of Fame. In the July, 2006 issue of Modern Drummer, Watts was voted into the Modern Drummer Hall of fame, joining Ringo Starr, Keith Moon and other highly esteemed and influential drummers from the history of rock and jazz. Watts was called one of the greatest drummers of his generation.
Ringside Report sends our condolences to Charlie Watt's family during their time of grief.
[si-contact-form form='2′]