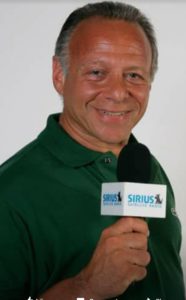 By  Randy "The Commish" Gordon
On Saturday night, Manny Pacquiao looked like a 42-year-old fighter who hadn't fought in two years. That's because he is 42 and hadn't fought in two years. He lost in an unspectacular fight to an unspectacular fighter named Yordenis Ugas.
It was inevitable. No matter how great you are, you cannot turn back the clock. What is lost is lost forever, and cannot be gotten back.
Jack Dempsey. Joe Louis. Willie Pep. Henry Armstrong. Sugar Ray Robinson. Sugar Ray Leonard. Roberto Duran. Muhammad Ali. Alexis Arguello. Julio Cesar Chavez Sr. Hector Camacho. George Foreman. Mike Tyson. Bernard Hopkins. Wladimir Klitschko. All were great or terrific champions. All lost their final fight.
Father Time erodes everything.
Even Manny Pacquiao.
Two weeks ago, I was at an amateur boxing show at Gleason's Gym in Brooklyn, N.Y. At the show, many fighters, managers, trainers and cornermen came up to me and said hello. Many of them threw in a hug, which is so prototypical within the sport.
Before any could show their boxing love, I held up a hand.
"Are you vaccinated?" I'd ask. On two occasions, I received a "No, I'm not."
One of the two understood, and kept his distance.
The other one—a highly-regarded trainer—not only responded, "No, I'm not," but added, "I don't believe in the vaccinations."
I looked at him in disbelief.
"Well, I certainly do!" I stated matter-of-factly.
The trainer shook his head.
"You don't really believe the vaccinations work, do you Commissioner?" He didn't wait for my answer.
"It's all a big ruse." he said through the mask which covered only his mouth, but not his nose. "The whole thing is a scam."
"If you think it's such a scam," I asked, "why are you wearing a mask, which, by the way, you are wearing incorrectly?"
"We had to wear masks to this show, or we can't stay," he replied. "That's the only reason I am wearing one."
I waved my hands like a referee stopping a fight.
"You shouldn't even be allowed in this gym," I said angrily. "It's people like you who are keeping this pandemic lingering on!" I turned and walked away.
Earlier this week, I heard Bruce Silverglade, the longtime owner of Gleason's say, "From now on, anybody coming in here will have to show proof of being vaccinated. If they cannot, they cannot stay. It's going to cost me money, I know, but this is something I have to do."
Silverglade, already on my list of favorite people in boxing, elevated himself even more with his new gym protocol.
This leads me to wonder what the Ohio State Athletic Commission will do with their upcoming show on August 29. That's the date of the Showtime PPV event taking place in Cleveland's Rocket Mortgage Fieldhouse between youtuber Jake Paul and former MMA star Tyron Woodley.
On the undercard, local undefeated Super Lightweight Montana Love will take his 15-0-1 record into the ring against his toughest opponent, rugged Ivan Barachyk.
The always-ready-to-nrawl Baranchyk hasn't fought since last October, when he was stopped in the fifth round in the "Fight of the Year" by Jose Zepeda.
Two weeks ago, Love joined me and Gerry Cooney on our SiriusXM Radio show, "At the Fights." During the course of his interview, Love admitted he wasn't vaccinated.
I asked him why not.
"I don't really believe in the vaccination," he answered. "Besides, I've been playing it smart and haven't been out and about."
I followed up with, "What will you do if a commission tells you that the only way you can fight is to be vaccinated?"
He answered, "Well, if I have no choice, I guess I'll have to get vaccinated!"
Hopefully, the Ohio Commission will give him no choice. Unfortunately, with the fight only days away, it will be impossible for Love to take even the single-dose Johnson & Johnson vaccination for it to be effective.
If you were Ivan Baranchyk or the whoever the referee will be for that fight and the commission personnel, would you want to be in the ring with an unvaccinated fighter, even if you've had the vaccination yourself? I wouldn't.
It will be interesting to see what the Ohio Commission's decision will be. If it were up to you. What would your decision be?
I know what my decision would be!
Star Boxing Promoter Joe DeGuardia is excited for a number of reasons:
Firstly, Joe Smith Jr., his hard-hitting WBO Light Heavyweight Champion, has signed a two-fight deal, with both fights looking like they'll be taking place in Madison Square Garden. The first of the bouts will be against the WBO's mandatory challenger, Umar Salamov, who is 26-1. Should Smith win that, a high-interest, high-profile title defense will follow against fellow New Yorker, Danny Jacobs. Jacobs, a former middleweight titleholder, who last saw action as a S uper Middleweight back in November 2020, will be making his first start as a light heavyweight in his challenge against Smith. This one will also be in Madison Square Garden. However, unlike the Salamov fight, which will be in the Garden's 5,500-seat Hulu Theatre, Smith-Jacobs may wind up in the big room at MSG.
I get it that many fighters are "protected" by their promoters and managers right from the start, being put in with "safe" opponents. Those managers and promoters are investing time and money into their fighters, and want to see the left side of their ledger grow, while keeping an "0" on the right side.
All too many times, a fighter's team sacrifices their fighter's learning ability by matching them against the softest opposition imaginable. On many occasions, when a fighter is fed nothing but soft touches and weak opposition, their skills go backwards. Such was the case last month, when previously-unbeaten heavyweight Michael Coffie and his 12-0 record were matched against Jonathan Rice and his 13-6-1 record. Although Rice had lost his previous two bouts, they came against contender Efe Ajagba by decision and against 6'6" Australian prospect Dempsey McKean. Make no mistake—Rice can fight.
Coffie, in his 12 fights, had become the poster child for what happens to fighters who face nothing but weak opposition.
Upon examination of his 12-0 record going into his main event on FOX, we came away with the fact that eight of Coffie's 12 opponents had losing or .500 records. Although his previous opponent—Darmani Rock—came into their fight with a 17-0 record, he also came into the fight sadly out of shape and unprepared for the fight.
It was no surprise that Rice, with his average-looking record but far-greater experience and ring maturity, turned the steaming hot Coffie into stale old Coffie. Let that serve as notice to the fight guys who think building a record is more worthwhile than giving your boxer an education in the Sweet Science.
I want to give props to Greg Sirb, the Executive Director of the Pennsylvania State Athletic Commission. When talking about bigtime Executive Directors/Commissioners, the names Larry Hazzard (NV), Andy Foster (CA) and Bob Bennett (NV) most often are mentioned. I never say those three names without including Greg Sirb. He has run the Pennsylvania Commission flawlessly since 1988. He knows every aspect of the rules and regulations of boxing, and would be an excellent choice for a network to hire as their ringside expert/authority.
Quite often, I am asked for my thoughts on whether I'd like to see a Federal Boxing Commission. I am strongly against one, as the government has enough issues to deal with, and doesn't need to oversee professional boxing. But, if there were a Federal Czar, the two best choices would be Sirb, or former Nevada Executive Director Marc Ratner (who is currently the Vice-President of Regulatory Affairs for the UFC). Both needs to clone them!
I recently ran into former Featherweight Champion Juan LaPorte. The now 61-year-old LaPorte, who amassed a record of 40-16-1 (22) in a career which ran from 1977-1999, makes his home in Puerto Rico, but travels frequently to New York City. He keeps himself in top condition and looks years younger than his biological age… I also recently saw former four-division titleholder Iran Barkley at the "Friends of the Champ's" fundraiser in The Bronx. Barkley, who boxed from 1982-1999 Middleweight up to Heavyweight, amassed a record of 43-19-1 (27). Following his career, Barkley was left virtually penniless. Because of organizations like Ring 8, Ring 10 and "Friends of the Champ," along with meeting his wife, Pam (a nurse who specializes in head trauma), Barkley has done an about face. I was thrilled to see the 61-year-old Barkley, looking and sounding so well.
My Top-5 Favorite Young Guns: Xander Zayas, 18-year-old Welterweight (9-0, 7 KO's); Brandun Lee, 23-year-old Super Lightweight (23-0, 21 KO's); Tim Tszyu, 26-year-old Super Welterweight (19-0, 15KO's); Jared Anderson, 21-year-old Heavyweight (9-0, 9 KO's); Rolando Romero, 25-year-old Lightweight (14-0, 12 KO's).
Quieter than a Church Mouse: Where are GGG, Amir Imam, Luis "King Kong" Ortiz, Trevor Bryan, Sergei Kovalev, Mairis Briedis, Yuniel Dorticos, Leo Santa Cruz and Viktor Postol. All were either at the top or knocking at the door. Now…
Last week, John Riel Casimero won a 12-round split decision over Guillermo Rigondeaux in one of the most yawn-inducing title matches (it was a match, not a fight!) of all time. In the 12 rounds, Casimero landed only 47 punches. Rigodeaux landed even less (44). Afterwards, the 40-year-old Rigondeaux, a two-time Olympic gold medal winner for Cuba, said, "I have God-given boxing skills and this is how I display them. I'm a unique fighter. It's my style and the only one I know." He then proclaimed he intended to continue fighting.
My question is "Why?"
There's no question he is a gifted defensive fighter. But fans don't pay to see defense. They pay to see offense… Explosive, exciting offense. They pay to see knockdowns, stoppages and knockouts. So do the networks. From what we hear, they are done inviting Rigondeaux on to display his defensive skills.
We wish Rigondeaux all the best in looking for another big fight.
Happy Birthday to my longtime radio partner, "Gentleman" Gerry Cooney. On the August 24, he turns 65. I recently saw a video of him hitting the heavy bag in his gym. He hasn't lost anything on his massive left hook. In fact, I'd say he is hitting harder than ever. With all these crazy comebacks and crossover fights, Cooney should really think about throwing his name into the mix.
Randy "The Commish" Gordon is the Author of the hit book, "Glove Affair". Order your copy by clicking HERE.
Contact the Feature Writers