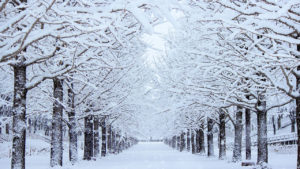 By Janet Grace
Indeed, it is, Folks.
Winter is coming and it is coming fast. Patio sets are packed away. Halloween and Thanksgiving displays are already out. Chanukah, Winter Solstice. Christmas and Kwanzaa lighting are up in all the major stores. Caribe natives and descendants are stocking up on glass bottles for their famous "Coquito" recipes, others are shining their shoes for Midnight Mass, which is right around the corner.
So, while you're hitting up your friends asking if they've got any empties to be returned filled with deliciousness, also ask them to look through their closets for any clothes they wouldn't mind donating to those in need.
With Ida having taken a toll on our neighbors, flooding destroying homes, so many having been evicted or in the process of during this pandemic, these are the individuals your minds could be wrapped around.
While you're stocking up on canned goods, get a few more and get them over to one of the millions of places collecting food, clothing, blankets, coats, sweaters, warm socks, shoes for those who've lost theirs or haven't had any for awhile.
This summer, I planted a massive garden filled with vegetables for the world. I cried into those seeds asking the Universe to assist me in feeding the world. I was amazed by the plethora of food I've amassed from my full moon prayer in May.
I've been giving away buckets of vegetables, thanking the Universe in partnering with me on this plea. The tomato stalks grew over 20 feet, reaching the 3rd floor balconies. I can barely keep up. Like Santa, I've left grocery bags with fresh produce on every door knob in the complex, shared with the hardworking landscapers and there're still a few weeks to go before the remainder is returned into the Earth. I'm overjoyed, so delighted to have been able to do this. I never expected this and yes, I was flabbergasted. Jack and The Beanstalk, much?
If your overstocked garden is in your closet, please weed out and share your surplus with the world. How many dresses, shirts, shoes, coats, slacks, dishes, utensils, blankets do you really need? Old bikes could be someone's means of transportation to get to a job.
I'll pin a list of websites on my page which may or may not pick up clothing. Many places have drop off bins where you can toss a trash bag filled of all you and your neighbors haven't worn this year. If you have an auto, set your home as a destination for clothing drop offs in tightly closed lawn bags and deliver them. You can call big brothers and sisters of America. They pick up furniture, including those old instruments, musical or tools, you're never going to use ever again
The Salvation Army, Savers and Goodwill sell your goods; however, there are places, women's domestic abuse shelters, i.e., House of Ruth, that give away your surplus goods, curtains, towels, makeup you're never going to use, shampoo, toothpaste, lightly used business clothing that you've outgrown, etc.
While you're at it, please don't forget the animals. If your dog outgrew his cage, pass it on. Dog and cat food, hay for farm animals and little critters, bird seed, doggy toys, etc.
Wherever your heart flows, run there with packages. Those of you that believe in the unseen helpers and Universe, bless those items as you pass them on that they may shield the recipients, protecting them and keeping them warm or cool, wherever you may be.
I thank you with all my heart. Together, we can do anything. Let's do this.
Brightest blessings to all.
Ever yours,
JG )O(
[si-contact-form form='2′]