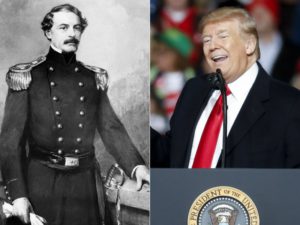 By Nikki Slusher
On Wednesday the 21-foot-tall bronze statue of confederate General Robert E. Lee at the state's Capitol in Richmond was finally taken down. Immediately a crew cut the statue into pieces carefully before transporting them to an undisclosed government facility until its fate is finally decided. There were hundreds of supporters and activists cheering at the removal of a painful reminder of some the country's darkest times.
The events that occurred last summer after the death of George Floyd by a Minneapolis police officer, like the nationwide protests ultimately prompted Virginia Gov. Ralph Northam to call for the statue's removal. Not everyone was thrilled, however, including Donald Trump. The HBIC of the GOP was upset with the decision, so naturally he decided to praise Lee — the greatest general of all time, the best anybody's ever seen. At least that's what Donald thinks.
"Robert E. Lee is considered by many Generals to be the greatest strategist of them all," Donald Trump stated even though nobody asked. "President Lincoln wanted him to command the North, in which case the war would have been over in one day. Robert E. Lee instead chose the other side because of his great love of Virginia, and except for Gettysburg, would have won the war."
"He should be remembered as perhaps the greatest unifying force after the war was over, ardent in his resolve to bring the North and South together through many means of reconciliation and imploring his soldiers to do their duty in becoming good citizens of this Country," Trump continued even though nobody asked for him to explain any further.
While there's no doubt about Lee's tactical and leadership skills, he was also responsible for hundreds of thousands of Americans' deaths due to his role in leading the South in defending the right to own Black people as property. Lee is a prominent figure in the South, being viewed as a heroic leader in today's society through the Lost Cause campaign which historians define as an ideology that erases slavery as the reason for the Civil War and portrays the rebellion in the South as patriotic. Sound familiar?
Historian David Blight is quoted in The Atlantic saying that it provides a "foundation on which Southerners built the Jim Crow System."
Trump's Comments on Wednesday somehow took a sharp turn from "here we go again" to "how does he come up with this stuff" when Trump made the claim that if General Lee had commanded U.S. troops in Afghanistan, we would've been victorious many years ago. "What an embarrassment we are suffering because we don't have the genius of a Robert. E. Lee!" the former president said. It's important to note here that some of the general's advising Biden also advised Trump.
While his comments are from living in a virtual reality, this is probably one of the less offensive statements the Florida retiree has made. Actually, they were exactly what we expected him to say besides that weird Afghanistan ad lib at the end. Insurrectionists gotta stick together these days.
Contact the Feature Writers