"Randy's Ringside on Ringside Report: Reader Emails Edition…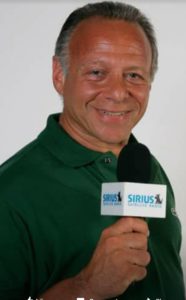 By Randy "The Commish" Gordon
A few months ago, I asked you to send your questions, thoughts and rants to my e-mail address, that I would answer as many as I can in personal e-mails to you. The others, I said, would be put here in my column, "RANDY'S RINGSIDE." Here are several of your most recent e-mails:
DOUG PETERS, Philadelphia, PA—I have watched local welterweight Jaron Ennis from his amateur days to the contender he has become. He is one of the most exciting—and skilled—fighters out there. Does he have anything coming up?
A: I know that the 27-0 (25) Ennis and his team are looking for a big fight, and say they will be announcing something very soon. In his last fight, on April 10, Ennis stopped former top contender Sergei Lipinets in the sixth round. It was the first time Lipinets had been stopped.
BILL EDISON, Utica, N.Y.—Currently, professional female bouts are two minutes in duration. Do you think they should be three minutes, just like bouts for male professionals?
A: While I'd like to see three-minute rounds put in place for female boxers, I would like to see, both a study on the medical aspects of three-minute rounds on the hormonal changes (if any) of a female, and a poll taken amongst the world's licensed females if they are open to fighting three-minute rounds instead of two-minute rounds. Also, many females will also say, "Pay us what the guys earn for fighting three-minute rounds and we'll do it. Otherwise, we'll stay at two-minute rounds." Good point.
WILL TATUM, Jacksonville, FL—I keep hearing talks of a fight between Katie Taylor and Amanda Serrano. Is this a fight which can really happen?
A: A Taylor-Serrano not only CAN happen, but we believe it WILL happen. The reason is because they each want the fight to happen. However, the holdup point is money. A fight between the two of them would arguably be the biggest, most compelling matchup in the history of female boxing. It's two "A-side" fighters against each other. It's two pound-for-pound female squaring off. Understandably, both are trying to maximize their earnings for this female mega-fight. Mega-fights should pay the participants mega-dollars. Both deserve Eventually, Taylor-Serrano will happen.
SARGE EDWARDS, Lynn, MA—Is there any truth to the talk that Jake Paul intends to retire from boxing?
A: Rumors, rumors, rumors. The popular youtube star loves, not only the mega-bucks he's earning, but truly loves the sport itself. This is not a rumor: He's already exploring an opponent for his next fight.
KARL CAMERON, Dayton, Ohio—I have always admired the boxing skills of Guillermo Rigondeaux. However, after his non-performance against John Riel Casimero in August, do you think he's finished as a top-level fighter?
A: Skillwise, it doesn't look like Rigondeaux is finished. However, his "non-performance," as you called it, will most likely keep any TV network from putting him in a main event again. I have to believe his competitive career as a top-level A-list fighter has come to an end.
SAL CANGEMI, Ft. Lee, N.J.—What is the reason Oscar De La Hoya had to pull out of his planned bout against Vitor Belfort?
A: The reason de la Hoya had to pull out of his September 11 bout against Belfort was because the "Golden Boy" had tested position for COVID. Yes, De La Hoya was fully vaccinated. We wish him a full and speedy recovery.
ANGELO MARIETTA, Providence, R.I.—Who would you say are the top three pound-for-pound female fighters in the world?
A: My ratings look like this:
1. Amanda Serrano—41-1-1 (30)
2. Claressa Shields—11-0 (2)
3. Katie Taylor—19-0 (6)
I can hear some yelling out there, as many of you feel Claressa Shields should be rated as the #1 female fighter in the world. For me, I just can't overlook all those titles in all those weight classes for Serrano, along with her complete domination of each opponent every time she steps in the ring. Perhaps the #1 slot should be held by both of them!
BRUCE HUGGARD, Huntington, WV—Who do you see winning the Canelo Alvarez-Caleb Plant unification fight?
A: The fight is scheduled to take place on November 6. I can't see Canelo losing to Plant—or any 168-pounder right now. I think he'll win a decision.
EDDIE MARX, Los Angeles, CA—On September 11, Oscar de la Hoya will be facing former heavyweight champ Evander Holyfield. Should I spend the money on Holyfield vs Belfort?
A: My answer is this: I don't want to be responsible for telling you how to spend your money. Somehow, though, I think Holyfield-Belfort will be much more competitive and entertaining than de la Hoya v Belfort would have been.
JOSE MARQUEZ, New York City, N.Y.–Is there an upcoming fight date for slugger Edgar Berlanga?
A: While there is nothing as of this moment, it is expected Berlanga's promoter, Top Rank, will be putting the 17-0 (16) Berlanga on a major card before the end of 2021.
TIM O'KEEFE, Lansing, MI—I am a fan of the lower weight fights. I think the upcoming fight (Sept. 18) between Stephen Fulton and Brandon Figueroa is going to be one of the year's most action-packed fights. What do you think?
A: I think Figueroa-Fulton is a can't-miss fight. The 24-year-old Figueroa, who is 22-0-1, holds the WBC & WBA Super Bantamweight titles, is a swarming, action fighter who has knockout power in both fists, as his 17 knockouts attests to. Fulton, the WBO Super Bantamweight Titlist, is 19-0 (8). He is a well-conditioned, sharp-shooting stylist who has faced—and beaten—three undefeated contenders in a row. Their fight will be televised by Showtime.
RODGER STEWART, Baltimore, MD—I saw where Gervonta Davis recently surrendered his WBA Super Featherweight Title. Do you think he'll also give up his share of the lightweight crown and move to the Super Lightweight division?
A: Not at all. Davis can still make 135 pounds without killing himself, and the matchup possibilities are endless for him as a beltholder in the lightweight division. Because he is also strong at 140 pounds, a few megafights at that weight are also real possibilities for him.
PAUL SIMONETTI, Toronto, CN—A friend said he heard you say on your SiriusXM show that you made a bet with Gerry Cooney on the upcoming Anthony Joshua-Oleksandr Usyk fight. He said you picked Usyk, who is a huge underdog in the fight. What would make you do that? Do you really believe Usyk will win? My friend also said the bet was crazy, that you bet some gross food, and that the loser had to eat it. What was it?
A: Your friend heard it right. I picked Usyk A) because I believe he is capable of going the distance with Joshua and outpointing him and B) it was the only way I could get Cooney to bet me. If the odds are close, he wouldn't take the chance, especially over eating a Filipino delicacy called Balut, which is a fertilized duck egg. Google it. Mmm-mmm.
ROGER PETERSON, Phoenix, AZ—Can you tell me anything about the Super Heavyweight Gold Medalist we saw in the recent Olympics. That guy is a monster.
A: His name is Bakhodir Jalolov. He stands 6'7" and weighs 250 pounds. I guess you watched his Olympic fights with the sound off. He already is a pro and lives and trains in California. He is 8-0 with 8 knockouts. You'll be hearing a lot about him from here on in, as his stock just rose dramatically with that Gold Medal victory.
BOB CONROY, Atlanta, GA—Does every state boxing commission require fighters to have their COVID vaccinations?
A: No. Many states do not make it mandatory for a fighter or his corner to be vaccinated. But 100% of state commissions do insist on all involved with a particular show be COVID tested in the 72 hours before the event.
Be safe.
Randy "The Commish" Gordon is the Author of the hit book, "Glove Affair". Order your copy by clicking HERE.
[si-contact-form form='2′]