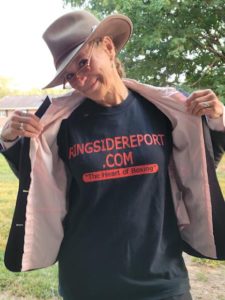 By Janet Grace
On July 23rd, 2019, I received a message from some dude on Twitter asking me to kindly DM him. Being relatively new to Twitter, I complied.
My first message was: "What's up, Baby Cakes?"
His response was: "Um.. I'll text you back!"
His next message was: "Hello, again. Do you like to write, by chance?"
I almost fell out of my chair. I suddenly realized that this was no ordinary "Twitter Bloke , to fancy this and that funny meme with. This was a business opportunity. I licked my hand, smoothed my hair back (kidding) and was ready. I told him about the five books I'd authored sitting within my non working computer and I loved to write, YES!!!
The man was none other than our very own "Bad" Brad Berkwitt.
He asked me if I was aware of his website. I was not. He informed me that he had a very popular website that he gave people an International Platform, for their voices to be heard on, to write about anything: from music, life and just about anything else.
Thus began my writing venture with Ringside Report.
As those of you familiar with "Bad" Brad, or "BB", as I lovingly call him, know — he finds his way into your heart and if your heart is already open, the faster you'll be attracted to one another says Law Of Attraction. He's a very high vibing individual on the right side of history, working diligently daily, to make a positive difference for all of humanity.
Being a career retired Navy man for (20 years and 28 days), he pulls no punches, is very straight forward, says what he means and means what he says leaving no room for misinterpretation.
If you're a bully, a fake POS, A MAGA, or just an every day asshole who makes jokes on his tweets regarding serious topics, you're not going to the pokey. You'll be 86'd so fast, you won't know if you're coming or going, and not in a pleasant manner, either.
"BB" wears boxing gloves and is an encyclopedia, when it comes to so many topics, beginning with boxing.
How he prepares himself to interview a guest is literally uncanny. The facts he researches and minor details he cares to learn, leave many guests shocked. He blows many talkshow hosts out of the water, just on manners alone.
Who else do you personally know that wears a well-earned silver ring with diamonds from having been part of the Class of 2021 being inducted into the Florida Boxing Hall of Fame this past June, that makes himself available to get to know, break bread with and is as genuine and surprising as one of the wonders of the world?
Aside from Jimmy Carter, the answer is no one…
Today, I celebrate my 100th article by paying homage and as always, honor, to my mentor – my brother, sent by Angels, who, along with the love of his life – that he loves twice, watch this video of his induction ceremony speech Debbie who is my sister.  Their fur babies, Santino Corleone and Bella Dawn Baby who are my nephew and niece puppies — they're family and loved as such.
Can y'all do me a solid and assist me in celebrating the man who would straighten this whole fucking planet out, with one swift kick in the pants and a few of the "boys". Fuggedaboutit!
Mazel-Tov, "BB". THANK YOU FROM THE BOTTOM OF MY "GENIUS EQUALS MADNESS" FAKAKTA BRAIN, MY HEART AND MY SOUL…
I adore this man. Retweet it cuz you know you do too…
Brightest regards,
JG )O(
Contact the Feature Writers