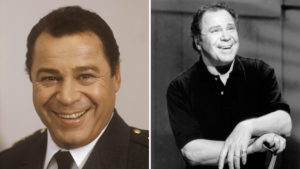 By Geoffrey Huchel
Actor and comedian Art Metrano, best known for playing Ernie Mauser in the second and third "Police Academy" movies passed September 8, 2021, of natural causes at his home in Aventura, Florida. He was 84.
Arthur Metrano was born September 22, 1936 in New York City. He made his film debut as a truck driver in the 1961 Cold War thriller ROCKET ATTACK U.S.A. From the late 1960s through the early 2000s Metrano was a familiar face to audiences as he guest starred on dozens of TV series including MOD SQUAD (1968-1973), MANNIX (1967-1975), ADAM-12 (1968-1975), BEWITCHED (1964-1972), NANNY AND THE PROFESSOR (1970-1973), BONANZA ( 1959-1973), THAT GIRL (1966-1971), LOVE, AMERICAN STYLE (1969-1974), IRONSIDE (1967-1975), BARNEY MILLER (1975-1982), STARSKY AND HUTCH (1975-1979), CHARLIE'S ANGELS (1976-1981), BARETTA (1975-1978), ALL IN THE FAMILY (1971-1979), THE INCREDIBLE HULK (1977-1982), WONDER WOMAN (1975-1979), WKRP IN CINCINNATI (1978-1982), FANTASY ISLAND (1977-1984), PUNKY BREWSTER (1984-1988), THE A-TEAM (1983-1987), CAGNEY & LACEY (1981-1988), 21 JUMP STREET (1987-1991), THE GOLDEN GIRLS (1985-1992),L.A. LAW (1986-19940), PART OF FIVE (1994-2000), and THE DISTRICT (2000-2004).
In addition to his role in the "Police Academy" film series, Metrano also appeared in the films THEY SHOOT HORSES, DON'T THEY (1969), THE HEARTBREAK KID (1972), TOYS (1992) and HOW STELLA GOT HER GROOVE BACK (1998).
Ringside Report sends our condolences to Art Metrano's family during their time of grief.
Contact the Feature Writers