Legendary Actress Jane Powell Dead at 92- Entertainment News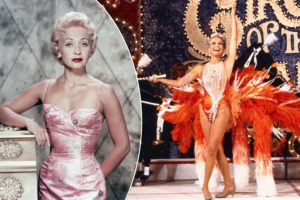 By Geoffrey Huchel
Jane Powell, one of the last surviving stars from the Golden Age of Hollywood, passed away September 16, 2021, from natural causes at her home in Wilton, Connecticut. She was 92. The actress, known for her "girl-next-door" image, starred in the classic films ROYAL WEDDING (1951) and SEVEN BRIDES FOR SEVEN BROTHERS (1954).
Jane Powell was born Suzanne Lorraine Bruce on April 1, 1929 in Portland, Oregon, where she achieved local fame as a child singer. As a teenager, Powell relocated to Los Angeles and signed a film contract with Metro-Goldwyn-Mayer. The actress, who could act, sing and dance made her film debut in SONG OF THE OPEN ROAD (1945), and then followed-up with DELIGHTFULLY DANGEROUS (1945). Powell continued to dazzle the silver screen making appearances in A DATE WITH JUDY (1948), SMALL TOWN GIRL (1953), HIT THE DECK (1955), and THE GIRL MOST LIKELY (1957). Powell is also known for her work in television, appearing in TV movies and series such as MEET ME IN ST LOUIS (1959), FANTASY ISLAND (1977-1984), THE LOVE BOAT (1977-1987), LOVING (1983-1995), MURDER, SHE WROTE (1984-1996), and guest-starring in eight episodes of GROWING PAINS (1985-1992), playing Irma, the mother to Alan Thicke's character, Jason Seaver.
Powell also had a successful career on the stage, appearing in productions of "Oklahoma" (1958), "The Unsinkable Molly Brown" (1963; 1966; 1981), "Carousel" (1966), "The Sound of Music" (1968;1972), "My Fair Lady" (1969;1971), "Brigadoon" (1973), "Irene" (1974;1975-1976), "South Pacific" (1978), "Cinderella" (1995), and "Nothing Like a Dame" (2000).
Ringside Report sends our condolences to Jane Powell's family during their time if grief.
[si-contact-form form='2′]