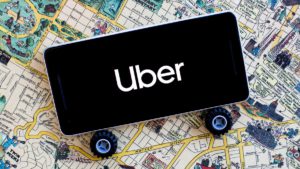 By Janet Grace
So, recently,  I returned to Ubering, after a two year hiatus. The App has been changed. It would have been nice to receive a "watch this before taking your first passenger." tutorial regarding the app changes.
The experience was akin to attempting to tune a guitar while traveling at 70 mph on the highway. The new map app froze while I was getting off the highway and not knowing what the next turns were, I asked the rider for assistance until the map redirected itself.
"CODE BLUE, CODE BLUE" was the background voice I heard, thanks to the medical shows I've been binge watching this summer.
When we reached our destination, three states away, the driver thanked me and gave me five stars, the highest rating, for being a safe driver. Honey, if you don't KNOW the anxiety I was feeling whatsoever, definitely give me those five stars for keeping cool instead of screaming into the darkness of the lonely Virginia night.
I've had passengers engage in sexual activity, despite my saying: Hey, NO! NOT NICE! THIS IS A NEW CAR!
I've driven at 100mph racing a passenger with heart failure to the ED of the nearest hospital, screaming: 'HE'S IN CARDIAC ARREST!" upon arrival, while half carrying the ailing passenger into the hospital. He called Uber instead of an ambulance because the latter would've charged hundreds for a ten dollar ride.
I jumped out of my car with passengers in the back and chased a chihuahua into the night. I'd left the keys in the car with the car running and returned with a bloody hand and a chihuahua in my arms, but he was running into the road and he was someone's baby, collar and all.
I left him at an emergency vets office after discovering that his tags bore no name and only a license and pet finders numerical tag which had to be scanned by a vet.
I received a one star for that, given the riders were pissed that I'd left them in the car with the meter running, drivers door ajar, in the cold and I wear that one star with pride. I contacted Uber and asked them to refund the riders account. I felt it was the right thing to do. Uber discounted them $2.00 and found my actions to be right as rain. I received a "HERO OF THE NIGHT" award for that one.
However; the one rider to be that affected me the most was this last fare I drove to on my way back from Virginia. The address was F Street NW in DC. It was a gorgeous night on September 10th. The next day was the 20th Anniversary of the September 11th tragedy.
The streets were bustling, resembled Mardi Gras in New Orleans, with hundreds of people walking in and out of the streets. There was police activity before me with five or six squad cars blocking any traffic from moving in any direction.
I was able to park EXACTLY where my new Handy Dandy Uber App had told me that the destination was. I could see the riders mobile phone, not moving, about 20 feet away. The fact that I actually found a safe parking spot and didn't have to double park, further obstructing the already FAKAKTA chaos, was clutch.
I turned on my interior lights and blinkers for better visualization, stepped out of the vehicle looking like the older, well dressed, former professional I am, instead of a lost college aged ride-share driver, but, kind of lost was exactly what I was. Nevertheless, I was ready to direct and assist my passenger into the vehicle.
There were far too many people in the street and on the sidewalks for me to distinguish which one of these crowds of happy folks talking amongst themselves, belonged to me. Besides that, the Uber App read: "We have contacted the passenger". See? No need for me to scream their name, which was the only information I had, into the bright lights surrounding us..
I waited for the rider to find my car with its lights blinking like a Carnival Ride and me standing next to it, watching everyone I saw, in case someone should be looking like they were searching for someone, for over five minutes.
I finally received a message from the rider. "You're not here". I responded: 'Yes, I am. Just 20 ft before you. The silver car with the lights on and blinking". She responded: "No, you're not." Okay, then. NO COMMUNICATION FOR YOU.
At this point, Uber was charging her for waiting time. Now, this person had my name, my picture, my car's color, make, model and the license plate number. As I've said many times before: A lighthouse cannot travel to the ship.
There was no room or way for me to move my vehicle out of the parking spot OR back it up 20 feet and I wasn't going to ask 100+ people if they were "Karen".
When Karen finally found me, (yes, I'd waited that long because I COULDN'T FIND WHERE THE HECK THE CANCEL BUTTON WAS IN THE NEW APP), she had two phones in her hands and screamed out: "I'm video taping you". You were not here. Oh, really? What did I do, materialize out of thin air suddenly looking forward to your attempt to chastise me for not rolling out a red carpet and carrying you in? This is a car, not a rickshaw, Miss.
This dialog was only in my head. I; at this point, I had already given up on her and was smoking a cigarette on my own time, leaned against my car watching her scream at me on her video show while not saying a word — until she came at me with: "YOU'RE ONLY HERE PLAYING WITH YOUR DOG". It's true. My hearing dog, a five pound chihuahua with radar ears has been traveling with me for over 12 years alerting me to sounds I no longer hear like doorbells, knocks, microwave, oven timer, alarms alerting me that is time to take my meds, etc. and we're always together. She was sleeping soundly in her carrier seat, bothering no one. To quote TFG: "I JUMPED ON HER LIKE A BITCH. I DIDN'T EVEN WAIT!"
Karen, suddenly found me two inches from her face. I looked directly into her eyes. I knew my eyes were popping out of my head. I was livid. In my Devil Voice, reserved for when I'm out of control, I whispered: "Get AWAY from my car".
Karen, RAN! I'm talking sprinted the fuck away from me. I finished my cigarette and eventually drove around the block before being able to find and access the new features for the "cancel" button.
I contacted Uber right away and told them there was no way, no how that I was going to allow someone who obviously was more interested in creating a scene than being driven to her destination, into my personal vehicle. Hell, nah.
If she was CRAZY outside the car, she'd be a triple threat if I'd smiled, apologized and allowed her entry. GTFOH!! Be that as it may, I asked Uber to cancel her charges because it was my fault for not finding the cancel button. She should not be charged for a ride she never got.
Uber thought differently. They found I'd earned my wait time and charged her regardless.
Today, days after it happened, I'm finally OKAY to return to the big, bad road. It took me five days to recover mentally, from having this tiny five minute interaction of having being screamed at, at the top of this cretin's lungs, from affecting my every waking moment. That's CPTSD for you. I replayed that scene in my mind over and over and was able to finally be okay with not having ended her existence.
Yeah, it wasn't how she came at me that bothered me. It was how lucky she was not to have triggered me further. With police activity mere feet away, I had to remain calm, otherwise she would've gotten slapped so hard, she'd need a bridge where her teeth fell out and if I went that far, there would be no stopping me until she was gone from existence, not realizing I would be using her to end all of my life's assailants with mighty blows. The Hulk's "You won't like me when I'm angry" replayed in my mind even in my sleep.
Thankfully, I was able to distinguish her crazy from the time I was kidnapped, the time I was assaulted, the times insane individuals masturbated in full view in front of me when I was a child traveling to school using mass transportation and didn't have the language skills to defend myself or the insight to look for an adult for help. Karen took me there. "What a long, strange trip it's been".
Words to the wise. Be kind to those who serve you. Ya neva (sic) know what's inside.
Holla, Mates. I love you.
Brightest blessings to all (grrr .. yes, even fucking Karen. I'm working on it.)
JG )O(
Contact the Feature Writers