Ringside Report Takes a Closer Look at Boxer Bradley Skeete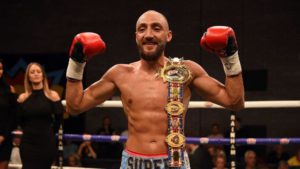 By Donald "Braveheart" Stewart
In 2018 I ended up in some email correspondence with a guy in Spain because I had tipped Bradley Skeete, 29-3, 14 KO's, to beat the unbeaten Spaniard, Kerman Lejarraga for the European title. I acted like many English imperialists who believed that anyone from this sceptred isle was always going to prevail against Johnny Foreigner.
It was shameful. I am neither English nor an imperialist. And just to serve me right, Johnny Foreigner won. And he won well. The contest for the vacant EBU welterweight belt ended early with the towel thrown in by Skeete's corner in the second round!
The emailer had begun by taking me to task by showing how dangerously ignorant I was about European boxing. By the end we had a very decent conversation as I acknowledged early how I must have sounded. Since then, Lejarraga has eaten up British fighters like Frankie Gavin, Jez Smith and Tyrone Nurse though he had already feasted upon Denton Vassell.
Lejarraga then came unstuck against David Avanesyan, not once but twice, whilst Skeete went back to the UK and tried to rebuild. Two fights in – one win and one loss – he was out of the ring for 2 ½ years before getting back in a Sheffield car park to beat journeyman Dale Arrowsmith to announce his return; Lejarraga attempts to become a two weight EBU champion when he fights in Barcelona on a Matchroom card in October for the super welterweight version of the European crown. The rebuild job seems to be working better in Spain, but let's not be too hasty – I have been guilty of that in the past, after all!
I knew of Skeete because his domestic rise was almost textbook. The storyline should be to win an area title, then an English title and then take a WBA intercontinental title, the British title and the WBO European titles and people shall start to mention your name in the right arenas. It was a version of "the old school" route map.
Lejarraga and Skeete share a common opponent in Frankie Gavin, the tarnished golden boy of British boxing. Gavin is the former world amateur champion who never seemed that fussed about a professional career. Skeete's fight with him went the distance and Skeete suffered his first professional loss on a unanimous decision that brought more shaking heads to the table than nodding ones.
European honors were then to follow as Skeete beat Anzor Gamgebeli for the WBO European welterweight title. He was able to defend that title not once but twice. The defeat to Gavin appeared to be a simple blip, a learning curve on his way to greater glory…
The problem Skeete had, was that in a division filled with "names" in the UK, and he was not that fashionable. An honest pro with a good skill set he was just not seen by many as the guy who would produce world honours at the same time as drag in the crowds. So, when he was announced as the opponent for Sam Eggington, a guy with similar standing and reputation, in 2016, many predicted he would come a cropper, and this was to be him providing Eggington with a platform; how wrong they were.
Skeete produced a masterful performance and put Eggington, who was the darling of the ghettos in the UK, back into the box from whence he came.
Then he fulfilled the dream of many a British boxer – defending his British title three times to become the proud owner of a Lonsdale belt – three wins after winning the darn thing, you get to keep it!
It was, however, the impressive way he gathered those wins that marked him out.
Until…
One night in Bilbao, Spain in 2018 and Kerman Lejarraga, 24-0
At the time, Skeete had almost got to fight Jeff Horn, but the Australian team took on what proved to be the easier fight by allowing Gary Corcoran to share a ring with Horn; Horn stopped him in the 11th.
Skeete went into the fight with Lejarraga as the British champion since 2015 and European champ since 2014. He was stopped in that second round, and all seemed to fall apart around him.
And then… he announced a comeback 30 months out the ring and he was returning. Legendary trainer Dominic Ingle, son of Brendan, gave him the boost and no doubt kick in the right place to get himself together. It was perhaps that move to a new training regime that convinced him but any world title ambitions shall have to wait until he proves he can mix it in the levels in which he shall find himself first.
So, the comeback win in the bag – what shall be next?
I have to say I am very intrigued. My email correspondent has had plenty to consider in Lejarraga's career so will care little about Skeete's. Should Skeete come back and build from British level up or is he likely to move to European level straight away. Will he face a couple more journeymen before making his way into the minds of promoters and governing bodies or is his age – he is 33 years old – a factor and he needs to move quickly? It is this kind of story that got me into the sport, and it will now very much keep me there as I wonder what is next for a British fighter who once looked like he was one path, only for it to veer off into the wring direction.
[si-contact-form form='2′]