What Age Is Too Old To Step Into The Ring?
For those men who have conjured themselves a successful boxing career over the past century or so, it has meant a collection of belts for their efforts and their ability to call themselves the absolute best in the world.
However, there is one success that some quarters often forget and that is getting out of the game with all your faculties intact. While knowing when to call it quits, is just as important as landing a knockout blow.
Because with the 'Sweet Science' being as punishing as it is, the life of a boxer is not all that long in sporting terms and for those who bow out before the losses rack up, then that can be considered a win in itself.
Then again, for those who have had more than a taste of pugilism, it can also be incredibly hard to walk away from such an alluring sport and once these warriors develop the boxing bug, it is near impossible to get rid of it.
Something that has clearly been the case as far as Evander Holyfield is concerned and with the 58-year-old recently getting back in the ring for an exhibition bout, it has once again asked a rather pertinent question.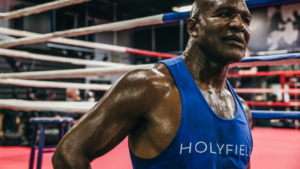 That of course being, just how old is too old when it comes to competitive boxing?
An answer that if you were to ask Holyfield himself, would certainly not be the age of 58 and with the former heavyweight king going up against MMA star Vitor Belfort in a recent bout, the freakshow element of boxing was once again back on display.
For as long as the art has been crafted, the freakshow has always sold in boxing and you only have to look at characters such as Butterbean Esch as proof of this, as the super-heavyweight would pummel his opponents into submission.
Esch was often considered a promoter's dream, as the giant was paraded around rings up and down America and even plied his trade in MMA bouts in Japan against the likes of Genki Sudo and Ikuhisa Minowa.
Although Esch may have been superior in terms of frame, he at least had relative age on his size and even if he may have displayed other health issues at the time of competition, nobody ever said he was too old to compete.
Such were the nature of Esch's MMA and Boxing bouts, that not even the best sportsbook online would not offer a market on the duels, as there were also doubts regarding the legitimacy of his combat contests.
By the same token, there was little concern about whether Holyfield and Belfort's recent duel was legit or not but with that said, there was also little clamor in which to stake a wager on the eventual outcome.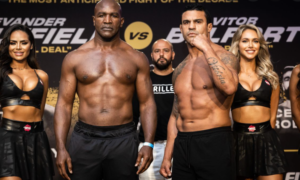 Of course, Holyfield is the latest in a long line of former greats who simply cannot stay away and with YouTubers entering the sport at one end, those who have previously been crowned champions are now returning at the other.
To the point where Boxing is struggling to stay relevant at times and although the recent duel between Anthony Joshua and Oleksandr Usyk would have thrust it back into the spotlight for a short while, it is the efforts of Holyfield and his senior ilk, which pull it back out.
With the UFC being such a dominant spectacle in terms of audience and relevance in recent times, boxing as a whole is doing its best to stay in the fight game and although it is trying its best, its best does not seem to be good enough.
Because if we are brutally honest, the sight of those who are fifty plus getting back into the ring, is a sight which is rather brutal in itself and one that should not be encouraged for very much longer either.
Yes, the level of competition may be dialed down but there are still plenty of health risks to those who should be long since retired and you get the feeling that such exhibitions are nothing more than an accident waiting to happen.
Surely it is better to remember the greats for what they were, than opposed to what they are and for each time members of the senior circuit don the gloves again, then their previous allure is one that only fades ever further.
At what point do these former warriors need to be told no? Do promoters need to take more responsibility and stop chasing the quick buck? I guess the answer to that second question is that promoters will never stop chasing the quick buck.
They should however possess a sense of culpability in all of this and although the likes of Evander Holyfield and Roy Jones Jr never want to let go of what they had, it is about time that they called time on their careers once and for all.