Randy's Ringside On Ringside Report: A Closer Look at Tyson Fury – Deontay Wilder III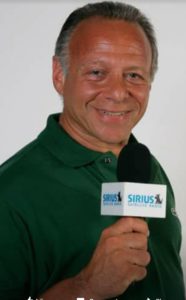 By Randy "The Commish" Gordon
On Friday, September 24, Gerry Cooney and I were wrapping up our longtime SiriusXM show, "At the Fights," giving our predictions of the next day's heavyweight title showdown between the champ, Anthony Joshua, and the challenger, Oleksandr Usyk. Gerry went first. He picked Joshua. He gave his reasons. They made sense. He pointed out that Joshua was physically bigger in every department and had the edge on paper. Gerry ended with, "A good big man always beats a good little man!"
Really??!!
How many times have you heard that? Want to tell that to Joe Frazier? Want to tell that to Mike Tyson? Want to tell that to Rocky Marciano?
Then it was my turn. I picked Usyk. I picked him because of his speed…. quickness…athleticism…durability…stamina. I picked him for every reason you saw the following day.
I told Gerry and our listening audience that on September 25, a good big man DID beat a good little man. September 25, 1962. On that day, the heavyweight title changed hands. On that day, the popular, but flawed, smaller champion, Floyd Patterson, was knocked out in the first round by Charles "Sonny" Liston.
But that was Liston v Patterson. Anthony Joshua is not Sonny Liston. Oleksandr Usyk is not Floyd Patterson.
"A good big man doesn't always beat a good little man."
Bring on Tyson Fury v Deontay Wilder. At 6'7" and around 220 pounds, Deontay Wilder is taller than Sonny Liston. He is taller than Muhammad Ali, George Foreman, Lennox Lewis, Vitali and Wladimir Klitschko and Anthony Joshua. He is taller than Jess Willard and Primo Carnera. He is heavier than most of the other men who preceded him to the heavyweight throne. Yet, on October 9, he will be, not only the smaller man, but the much smaller man. He will be smaller by around two inches and lighter by around 50 pounds.
This will be the third fight between the two behemoths. Their first encounter took place on December 1, 2018, in the Staples Center in Los Angeles.
Just over three years to the day earlier, Fury had shocked the boxing world by dethroning longtime champion Wladimir Klitschko, beating him by unanimous decision in the ESPRIT Arena in Dusseldorf, Germany. Over 55,000 fans were on hand for the fight. Most were from Germany and most were Klitschko fans. They left disappointed, as the long-reigning champion landed a total of 52 punches over the course of 12 rounds, unable to launch any kind of offensive against the taller, longer, more-elusive and busier challenger.
When it was over, all three judges had Fury ahead 115-112 (twice) and 116-111.
There were plans for a rematch at Manchester Arena. The bout was supposed to take place on July 9, 2016. On June 24, Fury postponed the fight due to an ankle injury.
On July 7, 2016, promoters announced that the Fury-Klitschko rematch would be in October 2016 at Manchester Area. However, on September 23, 2016, Fury again postponed the fight, this time due to being physically unfit. Shortly after, citing depression, he vacated his titles.
Klitschko then agreed to face IBF Champion Anthony Joshua at Wembley Stadium.
On April 29, 2017, Joshua retained his IBF belt and won the vacant WBA and WBO Heavyweight Titles with an 11th round stoppage of Klitschko in what was the "Fight of the Year."
As Fury's stock increased, talk grew louder for a Wilder-Fury fight. The fight began marinating. However, boxing has a way of over-marinating its showcase events.
In 2019, we saw Anthony Joshua derailed when he was TKO'd by Andy Ruiz. He got back on track six months later, when he easily outpointed the sadly out-of-shape Ruiz.
It was now up to Wilder.
Two months after Joshua's return to heavyweight glory came Wilder's crushing defeat.
The loss to Fury was more than a "L" on Wilder's record. For one, it erased his unbeaten record. It also made him an ex-champion.
At the post-fight press conference, Wilder made it clear that his cornerman, Mark Breland, should not have thrown in the towel.
"I have told my camp that nobody, under any circumstance, is to ever stop a fight. If I lose, I want to go out my terms. What happened tonight wasn't under my terms. I knew where I was. I had plenty of fight in me. I have been hurt before and came back to win. That was wrong to throw in the towel. A glance around the media room told each of us that nobody agreed with that statement.
Over the next few days and weeks, it got worse from Wilder. Much worse.
Following the shattering defeat, Wilder began firing off one preposterous charge after another as to why he lost. Those charges included, not only the rematch against Fury, but the first fight against the man who now wears the WBC Belt.
The 12th round knockdown scored by Wilder over Fury on a quickly-delivered, well-executed left hook/right cross to the chin was said to be a long-count given by referee Jack Reiss to Fury.
"He was down for a lot longer than 10 seconds," said Wilder, who put a clip of the knockdown on his social media.
Going by that clip alone, Fury was down for more than 10 seconds. However, the clip was apparently "doctored" and slowed down, just enough to make it seem as if Fury did not beat Reiss' count.
However, when real time footage was examined, there was no question Reiss' count was stopwatch perfect. There is no question Fury beat the count.
Of the draw verdict, Wilder said, "Everyone knows I won. Ya'all just wanted to see me lose."
Wilder's rants were endless, as well was as baseless, both against the judges and the referee. Boxing fans—even his own fans—began to see him as a sore loser.
In the 11 months fter the draw against Fury, Wilder fought twice. In the first of the two, on May 18, he faced tall, once-beaten contender Dominick Breazeale in Brooklyn's Barclays Center. In that one, a single, explosive right put Breazeale to sleep in 2:17 of the first round.
In November of that year, Wilder faced the 40'ish heavyweight contender Luis Ortiz, who had given Wilder a rough fight 20 months earlier., taking him into the 10th round before being stopped.
In their Las Vegas rematch, while leading comfortably in the seventh round on all three scorecards in the seventh round, Ortiz walked into a Wilder right, dropping him on his back and putting him in Dreamland.
Afterwards, Wilder said, "You have seen what I do to guys in rematches. You saw me against (Bermane) Stiverne. You saw me against (Luis) Ortiz. Now bring back Fury."
In his previous fight to the rematch against Wilder, Fury won a hard-fought unanimous decision against previously-unbeaten Otto Wallin, surviving severe facial cuts suffered in the fight, cuts caused by punches.
Because of the severity of the cuts, Fury shut himself down from any more boxing before the Wilder rematch. He did, however, take part in something far safer—a WWE match against big Braun Strowman (which to nobody's surprise, drew big numbers and was won by Fury).
Slightly five months after his fight against Wallin, Fury faced Wilder in a sold-out Grand Garden Arena at the MGM Grand in Las Vegas.
The arena was packed with fans of both fighters, with thousands of Brits pouring in on flights from the U.K. in the few days before the event.
Fury's entrance was perhaps the most spectacular of any man ever challenging for the Heavyweight Title.
He sat on a velvet throne, atop a velveted box on four wheels, dressed in a crown and regal attire. He was pushed slowly into the arena by MGM employees and escorted by a phalanx of bodyguards and Las Vegas police.
Wilder's entrance, while flashy, paled by comparison. He came in wearing 40-pounds of costume, including a mask, which he said was designed to celebrate Black History Month. He had donned the outfit some 15 minutes before his ring walk, and later said the weight affected his legs.
That was the beginning of his myriad of excuses.
Months earlier, as Wilder yelled his signature "Bomb Squad" and promised to drop Fury in the rematch "for a lot longer than 10 seconds," Fury made his own predictions and boasts.
Following the win over Wallin, Fury weighed 254½. Afterwards, he boasted, "I will be a lot heavier for Wilder. Don't be surprised if I come in at 300 pounds."
While Fury didn't come in at 300, he was indeed considerably heavier than he had been in his last four fights. For Wilder, he weighed 273.
At the weigh-in, that came as a surprise, as many boxing authorities had thought he was joking about putting on weight.
At the final pre-fight press conference, Fury said, "I wasn't joking when I said I would weigh more." Then he added, "I will even tell you how I will fight Wilder. I have nothing to hide."
We all leaned forward to hear the joke.
"I am going to take the fight right to him. He won't have to look for me," Fury said with a straight face. "I will be right there, backing him up."
Wilder laughed. So did all the members of his camp. Some members of the media did, too.
When Wilder spoke, he sounded confident.
"You saw me at the weigh-in," he said. "I weighed 231 pounds. That's 231 pounds of muscle. How is he gonna' be able to back me up? I ask you. But, he says that's what he intends to do. I hope he does. Because if he does, we are all going home early." He held up his howitzer of a right, the one responsible for 41 knockouts.
Who knew? Who knew that Fury did indeed have the strength and power to back Wilder up? Who knew that Fury told us the truth about what his fight plan? Who knew he could thoroughly outbox and outslug the world's heaviest-handed fighter?
From the opening bell, it was no contest. In the third round, as Wilder missed with a right, then ate a few counter shots in return, I said to Gerry Cooney, who was next to me at ringside, "This is not looking like Wilder's night."
A moment later, a right hand dropped him. He looked more bewildered than hurt. It was if he was thinking, "What in the world just happened? Did Fury just knock me down?"
Wilder ate more leather that round, but stayed on his feet. He ate even more in the fourth. But in the fifth round, you could see a different look on his face. Gone was the cold, steely, glare of confidence he always wore—even in tough rounds against Ortiz in the first fight and against Artur Szpilka, who had given Wilder some rough moments before nearly being decapitated by a Wilder right in the 9th round four years earlier.
When a left hook to the body dropped him in the fifth, you knew the fight was gone from Wilder.
We in the media knew it. The fans knew it, and screamed for Fury to finish him or for Wilder to hold on and survive. The fighters knew it. Fury was just waiting for his moment. Wilder knew it. The look on his face said, "I'm in trouble. Big trouble! I've gotta' land my right hand soon."
Referee Kenny Bayless also knew it.
As the fighters moved around throwing punches, Bayless' looks at Fury were exactly that—looks. Nothing more. His looks at Wilder were studies. They were examinations of Wilder's facial expressions and eye clarity. He knows a fading fighter when he sees one. In Wilder, he saw a fading fighter.
Despite Wilder's withering chances in the fight, he allowed it to go on. As I watched, I was having trouble grasping the fact I was seeing Wilder lose his first fight…that he was going to be an ex-champion. That it was Tyson Fury beating him up, the same Tyson Fury who came within one or two punches from being stopped on cuts by Otto Wallin just five months earlier…by the same Tyson Fury who was floored by the light-hitting Steve Cunningham in 2013.
In the seventh round, after Wilder stumbled while taking a punch, my eyes cut to the champ's corner. There was cornerman Mark Breland, the beloved former Olympic gold medalist and pro welterweight champion, holding a towel. I watched Breland. My eyes moved to an unsteady Wilder, then back to Breland.
As quick as he once flashed his lethal right hand, Breland flung the towel into the ring. Even without seeing it, but only seeing a stumbling champion, ref Bayless jumped in and stopped the fight. The time was 1:39.
Wilder protested, but that was to be expected. He was undefeated. He was a champion. He felt he could have gone on. He wanted to go on. He was a proud warrior, and wanted to go out on his shield. He wanted to fight on until there was nothing left inside of him.
That's why the ref is there. That's why a cornerman is there. Sometimes a fighter needs to be saved, not so much from his opponent, but from himself.
If Bayless saved Wilder from Fury, then Breland saved Wilder from himself. He couldn't stand seeing his fighter floundering and stumbling like a drunk emerging from a bar at 3:00a.m. Far too many referees and cornermen have allowed their fighters to do what Wilder said he wanted to go—"Go out on his shield." It's a fine quality for a fighter to have and for them to want to go out that way. It's up to the referee and their corner not to allow that to happen.
When Bayless and Breland stopped the fight, they did Wilder the biggest favor of his career. Instead of firing Breland—which we'll get to in a moment, and instead of making up a terrible story about Bayless—which we'll get to after we tell you about Breland—Wilder should have thanked them both. He is quite possibly in Satuday's fight because of the actions of both Breland and Bayless.
Following the very correct stoppage, Wilder showed more fire than he did in the 19:39 the fight lasted.
The former champ accused Breland of poisoning his drinking water. As for the world-class Bayless, Wilder accused him of being out drinking before the fight.
The charges and excused didn't stop there. Of course, there was the one about the 40 pounds of costume he wore into the ring wearing out his legs.
Then there was the one about the Nevada Commission allowing Fury's wrapped and inspected gloves of Fury being unwrapped, removed, stuffed with metallic "egg weights" then put back only partially on Fury's hands.
The charges went on for days, weeks and even months.
Wilder said he had a legal document, signed by Tyson Fury, calling for a rematch. But as 2020 moved on and COVID moved in, Fury and his team distanced themselves from the constant rants of the man he so fairly beat on February 22.
As the distance between the two of them ever meeting again grew further apart, Fury began to talk about a match against Anthony Joshua. So did Fury's co-promoter, Bob Arum.
"That contract Wilder said he has is null and void," said Arum. "If he comes back with a few good victories, maybe he can fight the winner of Fury v Joshua."
But Wilder never let up. Neither did his co-manager, Shelly Finkel, who kept telling those of us who were willing to listen that the contract they held was perfectly valid.
While a fight between Joshua and Fury were making plans to face each other in the Summer of 2021, Team Wilder was making other plans—to face Fury is a trilogy. Fury kept waving his fists, saying "I beat you already, get back in line," Wilder kept waving the rematch clause.
"You must honor this, first!" he kept stating. Wilder was right. It was the one moment of a fight he did indeed win against Fury.
Wilder got his wish for a trilogy fight in mid-May 2021, when Arbitration Court Judge Daniel Weinstein ruled that the signed return-clause contract was indeed valid, and Fury must step in the ring against Wilder before stepping in against Joshua—or anybody else not named Deontay Wilder.
With that, Wilder went back to the gym with his his new trainer, Malik Scott, and continued preparing for his third fight against Fury. It was something he was already doing for months, while Fury prepared to face Joshua.
After it became apparent that Fury-Wilder III was real, Joshua moved ahead and selected unbeaten former Cruiserweight Champion Oleksandr Usyk as his opponent on September 25. You saw how that worked out for Joshua.
There were several Summer dates for Fury-Wilder III, the last one being August 24.
Shortly before the bout, Fury announced he had tested positive for COVID. Then came the date which is now just hours away—Saturday, October 9. While Fury seems to be in shape, nobody knows for sure, as his workouts have been behind closed doors.
For Fury, there was a brief break in camp to be at the bedside of his wife, who had given birth to their daughter in England. The baby had some issues at birth, and Fury stayed until all was fine. When he was given the green light, he returned to camp.
But the questions have been raised: What kind of physical—and mental shape is Fury in, compared to the physical and mental shape he was in for both of his previous fights against Wilder?
You can also ask the same questions of Wilder? Is he more prepared now than he was in either of the first two bouts against Fury? Will he be affected by the knowledge that Fury can and did back him up, beat him to the punch and hurt him?
Will Fury use that knowledge to his advantage? Will Wilder use it to fire him up?
How much has Wilder learned under the training of Malik Scott? Will it be enough, as he had to learn so much? Will Wilder look like a different fighter at the sound of the opening bell? In what way? Does it matter?
What about the Wilder jab? It never was a jab given a very high Boxing IQ. Has Malik Scott been able to trade Wilder's old jab in for a brand new, much more effective jab?
Yes, Gerry Cooney—and others—have long believed that a good big man can beat a good small man.
To that, I'll say, "Just watch the fight on Saturday. It just may be 'The Bigger They Are, the Harder They Fall!'"
Randy "The Commish" Gordon is the Author of the hit book, "Glove Affair". Order your copy by clicking HERE.
[si-contact-form form='2′]