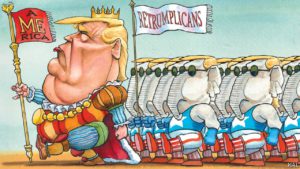 By Janet Grace
It comes as no surprise to us that another male idiot who just happens to be a GOP member has been caught with his dirty, sweaty palms fondling another man's wife's backside in public, at a hoity-toity GOP fundraiser, while many witnessed the disaster.
This is the best time to claim that IMHO, if this would've been an ethnic event, or had this been a house party, this would have gone quite differently. Why? Cuz those raised by people from any other country other than here, RESPECT OTHERS, for the most part, with the exception of those with more issues than tissues. Ok, maybe a fight would've broken out if someone had looked at another man's wife, maybe the music might have drawn in the cops, but a man putting his hands on another man's wife at a black tie affair, should not happen.
Had this been an Ethnic event, they would have had a ton more finesse than the idiot ogling a married woman in public, degrading himself, while attempting to degrade and blatantly disrespect a highly honored guest and financial contributor. He must've been hurting for the money. All these proud boy assholes know how to do is sabotage everything they see and touch with no morals or class.
Meanwhile, had it been an ethnic event, the assaulted woman and her husband might have received a lovely next day "thank you for your participation" card or they would have made a "take home" plate with food and cake. There would be no scandalous behavior but, no, keep saying: "we, people from different backgrounds, are this and that negative thing" while WHITE RACISTS, SEXUAL PREDATORS and LOW LIVES with HIGH Privileges show US their disgustingly and truly vile colors, Creeps.
Of whom do I speak, you ask? Welp! Funny thing is, as soon as I read this and before I could write out the person's name, the story was scrubbed from the internet, however a quick internet search blew my mind with the information provided on the HUNDREDS of law makers on both sides of the political parties; 99.9.9999% male, who somehow thought themselves brave enough to "whip it out" at the worst time ever. They just whip out that bad behavior and expect us to clap at the mess they made.
Survey says: KICK'M OUT!
WHOMEVER, DOES NOT KNOW HOW TO CONDUCT THEMSELVES IN PUBLIC SHOULD NOT HOLD A PUBLIC OFFICE POSITION, PERIOD. Brett, Matt, Marjorie, Jim, I'm looking at you.
f you disrespect the country you're serving, or do ill to others, you should be kicked to the trash bin.
This is my personal opinion. Fight me, lol.
Brightest regards,
JG )O(
Contact the Feature Writers