"Black Panther" Actress Dorothy Steel Dies at 95 – Entertainment News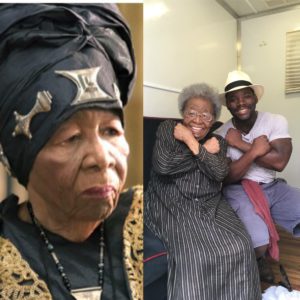 By Geoffrey Huchel
Dorothy Steel, known for her role in BLACK PANTHER, passed away October 15, 2021, at her home in Detroit, Michigan. No cause of death was disclosed. She was 95.
Steel, who began her acting career at age 88 is a prime example of the old adage "it's never too late". During her brief career, she was given the opportunity to appear in one of the biggest blockbusters in recent years, BLACK PANTHER (2018), co-starring opposite Michael B. Jordan, Lupita Nyong'o, Danai Gurira, Daniel Kaluuya, Angela Bassett, and the late Chadwick Boseman. Her additional credits include BLACK MAJICK (2016), THE REFUGE (2016), DAISY WINTERS (2017), POMS (2019), CHRISTMAS WISHE AND MISTELTOE KISSES (2019), THE OVAL (2019) and JUMANJI: THE NEXT LEVEL (2019).
Ringside Report sends our condolences to Dorothy Steel's family during their time of grief.
[si-contact-form form='2′]